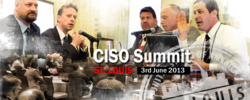 We have had to turn people down, and that's hard, but we don't want this to be an event where we just re-hash old ideas.
Albuquerque, NM (PRWEB) April 10, 2013
Recognizing that there is a lot of competition for the information security audience, EC-Council is positioning their latest conference offering, the St. Louis CISO Summit, to stand out. "We are really looking to present something different and not let people who spend their time presenting the same slides over and over again at events around the country do that at our event" says Eric Lopez, EC-Council's Conference Director. In order to be considered as a speaker or even to attend, interested professionals must submit their abstracts and resumes, which are approved or denied by a committee. So far, speakers from across the industry have made the cut – but not everyone who applies gets the thumbs up. Says Lopez "We have had to turn people down, and that's hard, but we don't want this to be an event where we just re-hash old ideas." Only top level information security professionals are allowed to attend the event so that everyone feels they are among peers and can share information comfortably.
The content will be geared to an executive perspective with the goal of helping the information security guardians at the top of the food chain better protect their businesses and organizations from malicious attacks through strengthened policies, programs, and tools through a blend of keynotes and panel discussions. There will also be a live hacking demonstration designed to make the audience question the security of their systems. After the conference, there will be plenty of time for networking at the CISO cocktail reception held immediately following the conference.
To learn more about the St. Louis CISO Summit and to register for the event visit: https://www.eccouncil.org/ciso/events/stlouis-2013/
About the EC-Council CISO Program:
EC-Council's CISO Program has three components: CISO Events, the Certified CISO (C|CISO), and CISO Resources – a repository for white papers and articles geared toward a CISO crowd. EC-Council's CISO Events are invitation only and geared specifically for high-level, executive information security professionals. Combining keynotes with panel discussions, the events are opportunities for CISOs from around the world to hash out the trends and challenges of information security among their peers. The C|CISO is a certification recognizing an individual's cumulative experience and expertise in executive information security management. Overseen by a board of seasoned and distinguished professionals, the C|CISO Program has certified over 700 IS executives from around the world.
For more information about EC-Council's CISO Program, please visit http://www.eccouncil.org/ciso/.
About EC-Council
The International Council of E-Commerce Consultants (EC-Council) is a member-based organization that certifies individuals in various e-business and security skills. EC Council is the owner and developer of the world-famous E-Council Certified Ethical Hacker (CEH), Computer Hacking Forensics Investigator (C|HFI), Certified Security Analyst (ECSA), License Penetration Tester (LPT) programs, and various others offered in over 60 countries around the globe. These certifications are recognized worldwide and have received endorsements from various government agencies including the US Federal Government via the Montgomery GI Bill, and the US Government National Security Agency (NSA) and the Committee on National Security Systems (CNSS) certifying EC-Council's Certified Ethical Hacking (CEH), Network Security Administrator (ENSA), Computer Hacking Forensics Investigator (CHFI), Disaster Recovery Professional (EDRP), Certified Security Analyst (E|CSA) and Licensed Penetration Tester (LPT) program for meeting the 4011, 4012, 4013A, 4014, 4015 and 4016 training standards for information security professionals and most recently EC-Council has received accreditation from the American National standards Institute (ANSI).
For more information about EC-Council, please visit http://www.eccouncil.org