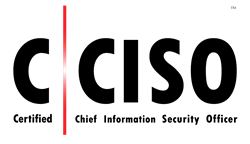 IS professionals looking to take the step in their careers, such as a step up to executive management, haven't had a training and certification program to help them accomplish that goal.
Albuquerque, NM (PRWEB) February 19, 2016
EC-Council's newest offering, the Certified Chief Information Security Officer program, is working on turning information security managers into information security leaders via live classes all over the world. With successful classes already run in Los Angeles, CA; Houston, Texas; Johannesburg, South Africa; and Kuala Lumpur, Malaysia the program is picking up steam in 2016.
The content of the course is not focused on teaching technical skills or honing management basics but instead builds on those skills that the highly qualified students in the class already have. Most CCISO students come to class having already earned their CISSP – not that this is a requirement – and are finding that the executive management perspective they learn from the CCISO content sets them up for the next step in their careers.
Said one recent student, the Information Security Officer at First Federal Bank, "The content from the course will be used to write my strategic plan to reorganize my current role and program at my employer." Another student, a CIO at an insurance agency, commented that the program "helps me become more aware of security issues and how to address [them]."
What many students who opt for this training program are finding is that once they have their CISSP, there has been a void in the market for the next step. IS professionals looking to take the step in their careers, such as a step up to executive management, haven't had a training and certification program to help them accomplish that goal.
CISO as a job role and title is becoming a standard for most businesses and other organizations. In fact, the Obama administration recently announced the pending appointment of a federal CISO to oversee the information security of all federal agencies. Most large businesses in the US have had a CISO for years and see the value in having one executive responsible for company-wide security. That idea is trickling down to small and medium-sized companies as well as other types of organizations. CISO as a job role is becoming well established in Europe, South America, and Asia as well. That means a lot of opportunities for professionals in information security management. Carrying an executive-level certification and putting into practice what they learn in the training program will help position CCISOs to take advantage of these opportunities.
The next stop for the training program is Alexandria, Virginia starting on March 7. The senior CCISO instructor, Mr. Keyaan Williams, former Director of Information Security for the CDC, is expecting another successful class. Williams walks his classes through the content using his experience to infuse the 5 days with real world example of the concepts as well as present interactive executive tabletop exercises to bring the material to life. Williams, talking about approach to the program, says "I don't try to teach the professionals in my class about the technical aspects of the CISO job. I focus on the strategic, financial, and executive management aspects of what CISOs actually do day-to-day. My students get a lot out of the class and leave ready to apply what they've learned to their current and future jobs."
For more information about the program as well as the upcoming training schedule, please see http://ciso.eccouncil.org/cciso-certification/cciso-training-study-options/. For government discounts, please contact Amber.Pedroncelli@eccouncil.org.
About EC-Council
The International Council of E-Commerce Consultants (EC-Council) is a member-based organization that certifies individuals in various e-business and security skills. EC Council is the owner and developer of the world-famous E-Council Certified Ethical Hacker (CEH), Computer Hacking Forensics Investigator (C|HFI), Certified Security Analyst (ECSA), Licensed Penetration Tester (LPT) programs, and various others offered in over 60 countries around the globe. These certifications are recognized worldwide and have received endorsements from various government agencies including the US Federal Government via the Montgomery GI Bill, and the US Government National Security Agency (NSA) and the Committee on National Security Systems (CNSS) certifying EC-Council's Certified Ethical Hacking (CEH), Network Security Administrator (ENSA), Computer Hacking Forensics Investigator (CHFI), Disaster Recovery Professional (EDRP), Certified Security Analyst (ECSA) and Licensed Penetration Tester (LPT) program for meeting the 4011, 4012, 4013A, 4014, 4015, and 4016 training standards for information security professionals and most recently EC-Council has received accreditation from the American National Standards Institute (ANSI).