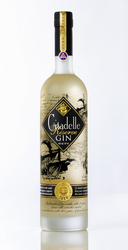 ALEXANDRE GABRIEL SAYS: Aging in oak gives more roundness to our gin and we felt that using older casks would impart a level of elegance and finesse that we were looking for. This is truly a gin of another era.
New York, NY (PRWEB) December 8, 2010
Alexandre Gabriel, owner and president of Cognac Ferrand, recognized as the birthplace of the artisanal spirits movement, is proud to announce the introduction of Citadelle Gin Reserve Vintage 2010, the third vintage aged gin from the company that produces award winning craft distilled spirits in Cognac, France. While this is the third year that Citadelle Gin Reserve has been created, this is the first time that the cellar master has created a gin with a specific combination of botanicals intentionally designed for oak aging.
Aging is a tried and true method of bringing out the best in a spirit, but it's virtually unheard of in the world of gin. Citadelle Gin Reserve was born from Alexandre Gabriel's thirst for knowledge about the true origins of gin - when gin was stored and transported in wood, not glass or plastic or stainless steel. Interestingly, back in 1775 two men by the names of Carpeau and Stival founded a French genievre distillery in Dunkirk in an old citadel (and where today's Citadelle recipe and name comes from). Gabriel's research has unearthed documents from that time which shows that most of the distillery's genievre production was being smuggled from France to England at night in small oak barrels and the smuggling was legally approved by the French King Louis XVI! They were transporting gin 'under Royal Warrant' into England – mon dieu!
While the 2008 and 2009 vintages of Citadelle Gin Reserve were created from Gabriel's signature Citadelle Gin - distilled in a pot still and infused with 19 botanicals - for the 2010 vintage aged gin, Gabriel and cellar master Frederic Gilbert decided to engineer the perfect 'aging' gin.
"Six generations of expertise at Cognac Ferrand in aging spirits helped us know exactly which aromatics would work best in oak casks," says Cognac Ferrand cellar master Frederic Gilbert. "By testing the aging properties of different botanicals, we were able to construct the perfect Citadelle suited for oak cask aging."
Gabriel and Gilbert decided to develop more flower and spices notes so during the distillation of the "special" Citadelle Gin, they emphasized notes of violet and iris for the flower aromatics, and grains of paradise for spice. They believed that the emphasis on these botanicals would create a gin with a perfect roundness, harmony and elegance. The gin was aged for 6 months in used 12-year old oak casks that had a light char. The result is a sublime gin, built on Cognac Ferrand's years of experience in cask aging. Citadelle Gin Reserve Vintage 2010 is truly special and its quantity is truly limited. Only 11,250 numbered bottles will be produced for the entire world. SUGGESTED RETAIL PRICE - $40.00, 750ml bottle (44% ABV).
TASTING NOTES from Cellar Master Frederic Gilbert:

COLOR - pale gold
NOSE - delicate floral notes revealed by the addition of violet and iris; spicy notes from grains of paradise
FLAVOR - flowers, cinnamon with a hint of wood; retains the aromatic palette and the crisp vividness of Citadelle Gin that is enriched with a soft fullness; the fresh and spicy aroma of juniper, citrus and star anise are still very present in the scent as well as the taste
FINISH - shows a unique depth and finish that only cask aging can provide
COCKTAIL RECIPE: The Aramis Martini
Strega
Citadelle Gin Reserve
Pierre Ferrand Cognac Reserve
Orange Zest
Wash the glass with Strega (to accentuate herbaceous nature of C Reserve). Stir Citadelle Reserve over ice and double strain into martini glass. Mist the glass with Pierre Ferrand Reserve Cognac. Garnish with thick twist of orange zest.
A WALK DOWN MEMORY LANE
The first aged Citadelle Gin Reserve was born in 2008, when Gabriel and Gilbert began to experiment with aging techniques just to see what would happen - and if the end result would be drinkable. They placed their Citadelle Gin in used oak casks that had a strong char for six months. The result was a very rounded gin with notes of wood and touches of vanilla. It was so good they decided to bottle and sell it in extremely small quantities. It was sold out in one week so they decided to do it again. In 2009, they wanted less wood flavor and more of the finesse that aging in wood can provide, so they placed Citadelle Gin in oak casks that had a medium char for five months. This produced a gin with subtle flavors of vanilla, flowers and cinnamon and a delicate finish. A mere 8,000 bottles were released for the whole world but it made quite a splash - F. Paul Pacult named the 2009 Vintage one of the "TOP 50 Spirits of the Year" in Wine Enthusiast magazine.
Alexandre Gabriel's focus and philosophy are simple – to produce special, unique spirits – gems so distinctive and revolutionary that they set the bar for all others that come after them. Mr. Gabriel has done this with his award-winning portfolio of Pierre Ferrand Cognac, Citadelle Gin, Mathilde Liqueurs, Plantation Rums and now, the exceptional Citadelle Gin Reserve Vintage 2010. Citadelle Gin is available in the United States, Europe (France, U.K., Spain, Italy, Portugal, Germany, Netherlands and Eastern Europe), Asia (Japan, Malaysia, Thailand) and Canada. It is the ONLY GIN in the world distilled in small cognac pot stills over a naked flame (not steam distillation). Citadelle Gin and Citadelle Gin Reserve are imported to the U.S. by W.J. Deutsch & Sons, Ltd.
For more information, visit http://www.citadellegin.com.
FOLLOW CITADELLE GIN ON FACEBOOK: http://www.facebook.com/CitadelleGin
###