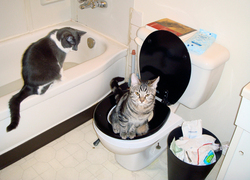 This isn't the stuff of Hollywood
Morrisville, PA (PRWEB) October 22, 2009
Cat owners looking to lose the litter box and start toilet training their pets now have another great reason to get started. CitiKitty, makers of the World Famous Cat Toilet Training Kit, has redesigned its signature product to help ease the pursuit of a litter-free lifestyle.
Four years after the world was introduced to CitiKitty's patent-pending training system, cat owners continue to have success getting their felines to think outside of the litter box and start using the toilet. CitiKitty remains the preferred choice of thousands of cat owners looking for a clean, money-saving alternative to spending hundreds of dollars on kitty litter every year.
Customer feedback led the makers of CitiKitty to improve upon the toilet training kit's already innovative design. The patent-pending CitiKitty training seat and insert now allows cats the ability to repeat steps in the training process should they need more time to master their new potty skills. "All cats learn at their own pace and CitiKitty's new design encourages and respects each cat's unique experience," says Rebecca Rescate, founder of CitiKitty. "The product has evolved, but we're continuing to provide an easy-to-use, low-cost way to toilet train your cat for under $30."
In addition to the training kit's new design, CitiKitty's packaging and product literature are now printed using 100 percent recycled materials. "CitiKitty is an environmentally-friendly product and we wanted our packaging to reflect that too," Rescate explained, adding that each year more than 8 billion pounds of cat litter is dumped into U.S. landfills.
For more information about CitiKitty or cat toilet training visit http://www.citikitty.com.
About CitiKitty
Mr. Jinx, the beloved cat of Robert De Niro's character in "Meet the Parents" may have put cat toilet training on the big screen, but in real life a cat named Samantha is the purring inspiration behind CitiKitty. The 15-year-old Tuxedo cat used to live in a 500-square-foot Manhattan apartment with her owner, Rebecca. The pair cohabitated wonderfully together with the exception of Samantha's litter box, which took up too much space and smelled like, well, a litter box. Rebecca made it her mission to find an affordable, safe, healthy, easy and environmentally-friendly alternative for Samantha to discard her unmentionables. During Rebecca's personal pursuit of the litter-free lifestyle, CitiKitty was born.
"This isn't the stuff of Hollywood," Rescate says. "CitiKitty has helped make toilet training cats a reality."
The CitiKitty Toilet Training Kit is manufactured in New Jersey and distributed worldwide. CitiKitty and other amazing cat products can be found at http://www.citikitty.com. For more information or to see a video of a CitiKitty toilet-trained cat, please visit CitiKitty.
###