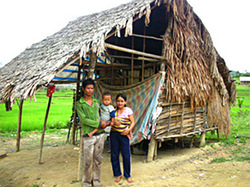 You can pass the citizenship test. We can help!
Dallas, Texas (PRWEB) September 28, 2009
October 1st, 2009 marks the one year anniversary of the implementation of the new citizenship test. Most immigrants who take the test find it to be more difficult than its predecessor. It's so hard, in fact, most natural born American citizens would fail it. Citizenship Coach™, a citizenship and immigration company, is here to help. With the motto "You can pass the citizenship test. We can help!" they do indeed: Of the many thousands of immigrants who have used Citizenship Coach's products and immigration services, not a single one has failed the test yet.
How can Citizenship Coach help immigrants pass the citizenship test? To keep up with the implementation of the new citizenship test, Citizenship Coach has developed new innovations that are helping U.S. immigrants study and pass the test. The company's online citizenship test preparation class named SurePass™ is available 24/7. It is reviewed by Immigrant Community Examiner and others as one of the best and most innovative tools available today for immigrants who wish to become naturalized U.S. citizens. By using streaming videos, SurePass helps immigrants learn the 100 new citizenship test questions online and learn how to answer them correctly word by word, verbally - all without having to drive to a class. The online program has been very popular since its debut in 2008 because it is effective, convenient, and easy to use, especially for the non-web savvy users, to practice the citizenship test at their own comfort at home.
And now, Citizenship Coach is giving back: For each product sold or online class registration, a portion of all profit is being donated to various charities in an effort to help children and families around the world. These donations will be made through the American Red Cross, WorldVision, Unicef and Huong Di. Timothy Nguyen, the founder of Citizenship Coach, said: "I came to this country as a poor person, from a poor family, with only $17 dollars my Grandmother gave me. In this land of abundant prosperity I found an education, a great job, and unlimited opportunities to serve. My fellow immigrants and I are called to continue the great charitable tradition of this country, and we are honored to do that." When purchasing a citizenship test CD, DVD, MP3, or a simple study guide, Citizenship Coach's customers are helping a child in Africa, Asia or a family in a remote part of the world. For example, last year Citizenship Coach helped build a small house for a poor family in Vietnam. This year they plan to build three.
Immigrants are helping themselves. Through the company's website, http://www.CitizenshipCoach.com, they are offering the largest collection of the translated version of the new citizenship questions and answers in 15 different languages, such as Spanish, Chinese, Vietnamese, Amharic, Oromo, Rusian, French, Tagalog..., even more than the USCIS -- and they're all free to download . This collection is growing fast as more immigrants volunteer to translate the English citizenship questions into their own languages, and then share with their communities via this popular website. They also help Citizenship Coach create and improve product offerings. All products are designed with the advice, input and the recommendations of many citizenship teachers, immigration lawyers, and past customers. Nguyen said, "They're helping themselves and helping others at the same time. It only happens in this country, and it's a beautiful thing!"
Want to see the citizenship test questions in another language? Want to try SurePass Online Citizenship Test Class? Visit CitizenshipCoach.com.
###