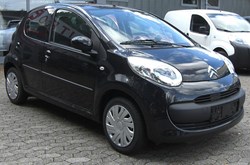 telematics car insurance provides an opportunity for motorists to take more control of their premiums
(PRWEB UK) 2 May 2013
Astronomical car insurance prices for young, inexperienced motorists have resulted in many young drivers being priced off the road completely. The introduction of "telematics" (or "black box") car insurance has enabled many younger drivers to afford to insure their cars.
Car manufacturer, Citroën is providing an incentive for young drivers to own and insure a new car by fitting its C1 Connexion special edition model with a telematics box. Young motorists can now drive away with a new Citroën C1 Connexion for £109 per month plus deposit with a year's free insurance.
The Citroën insurance available as part of this offer is free for young drivers who have two years' no claims discount (NCD). Thanks to the fitting of the telematics unit, Citroën can also offer discounted cover to drivers with zero or just one year's NCD.
Telematics car insurance works by installing a small black box in the car which collects data on the driver's driving habits. Information collected - such as the times of day driven, the type of roads used, braking and acceleration habits, the speed driven and the mileage driven- is recorded and used to calculate the premium. Furthermore, renewal premiums are calculated based on the first year's driving behaviour, providing an opportunity for younger drivers to be rewarded for safe driving with lower car insurance premiums in the future.
The initiative by Citroën provides young motorists with an affordable solution, allowing them to own and insure a new car and gain valuable driving experience for the future.
Andrew Goulborn, Commercial Director of car insurance comparison site Tiger.co.uk, commented:
"We have seen telematics car insurance increase in popularity not only amongst younger drivers but also with older motorists too. At Tiger.co.uk we feature more telematics insurance providers than any other car insurance comparison site and believe that telematics car insurance provides an opportunity for motorists to take more control of their premiums through the way they drive. This is particularly beneficial for young drivers as telematics car insurance rewards safe driving and can provide substantial discounts compared to standard policies. The initiative offered by Citroën a step in the right direction in tackling high car insurance prices for young drivers."
About http://www.tiger.co.uk:
Tiger.co.uk is a trading name of Call Connection Ltd. Tiger.co.uk is a UK based, independent car insurance comparison site, offering insurance quotes from over 150 motor insurance brands. Call Connection Ltd is authorised and regulated by the Financial Conduct Authority (number 308374).