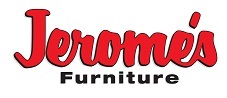 We feel the fight must continue to conquer this disease.
San Diego, CA (PRWEB) April 27, 2011
Family-owned and operated, Jerome's Furniture is proud to announce its support as local sponsor for the City of Hope, a leader in the fight to conquer cancer, diabetes, HIV/AIDS, and other life-threatening diseases. Jerome's has maintained its dedication to the City of Hope for decades and recently was awarded a Lifetime Achievement designation from the nonprofit thanks to its commitment to the cause. This year, Jerome's goal is to build awareness and participation for the City of Hope's fundraiser in San Diego - The Walk for Hope.
The Walk for Hope encompasses an inspiring day event at Point Loma Nazarene, selected for its stunning views and central location. Walkers can participate in a 4K or 2K, and will be joined by thousands of attendees who are part of a movement to help people whose lives have been touched by cancer to have hope and be able to live longer, healthier lives.
By joining together in this mission, Jerome's is part of the effort to advance the cause, and get closer to the dream of one day living in a world without cancer – especially finding cures and breakthrough treatments for women's cancers. The company will be providing a significant amount of donated on-air radio advertising time to build awareness for the event, and all employees interested in walking will have their admission fee paid for by Jerome's. In addition, every one of the company's seven showrooms across southern California will have entry forms and their sales staff will be ready to provide more information to customers interested in participating.
To communicate the message of The Walk for Hope, Jerome's will be setting up on-site kiosks where customers can share what "hope" means to them. They expect hundreds of inspiring messages to be shared in-store, online at http://www.jeromes.com/hope and on the company's facebook page at http://www.facebook.com/JeromesSanDiego. The Navarra family, owners of Jerome's, is especially proud to outfit the Survivor's Pavilion with comfort seating.
"Jerome's is in," said Jerry Navarra, chairman of Jerome's Furniture. "Faced with alarming statistics with nearly 300,000 women in the U.S. diagnosed with cancers - including our own family members - we feel the fight must continue to conquer this disease. We're proud local sponsors of the City of Hope's vision to one day provide a cure for all cancers."
At the event, attendees will enjoy live music, entertainment, a children's area, sponsor giveaways and vendor booths, and more. Jerome's encourages all San Diegans and visitors to make a point to stop by the Survivor's Pavilion, where the company will have a lounge set up with recliner chairs and a host of comfy seating for walkers. Hosts Ruben Galvan, reporter with San Diego 6 and Geena the Latina, co-host of Geena & Frankie V. on 93.3 will be on-site to greet guests along with Jerry Navarra and family.
"The Walk for Hope continues to grow in San Diego and we are thankful to local companies like Jerome's who have stepped up to bring greater awareness to the City of Hope in our region," said Ellie Levine from Walk for Hope. "Their years of dedication to our cause have not gone unnoticed and have helped us get closer to finding a cure."
City of Hope is a leading research, treatment and education center for cancer, diabetes and other life-threatening diseases. Designated as a comprehensive cancer center, the highest honor bestowed by the National Cancer Institute, and a founding member of the National Comprehensive Cancer Network, City of Hope's research and treatment protocols advance care throughout the nation. City of Hope is located in Duarte, Calif., just northeast of Los Angeles, and is ranked as one of "America's Best Hospitals" in cancer and urology by U.S.News & World Report. Founded in 1913, City of Hope is a pioneer in the fields of bone marrow transplantation and genetics. For more information, visit http://www.cityofhope.org or follow City of Hope on facebook, twitter, youtube or flickr.
ABOUT JEROME'S:
Founded in 1954, Jerome's Furniture is a family-owned and operated business headquartered in San Diego, Calif. with seven showrooms and six clearance centers located across Southern California and an e-commerce website providing avenues for consumers to enjoy online furniture viewing and buying. Regarded fondly by generations of families, Jerome's is known as the best furniture retailer for value ("Jerry's Price") and a wide selection of products. Recognized with numerous awards including Retailer of the Year by the Western Home Furnishings Association (WHFA) and Honoree of the San Diego National Bank Founders Award along with many other business recognitions as the best furniture store, customers know they can count on Jerome's to make it easy to shop for furniture with service support including interior design, same day delivery and financing. More information can be found by visiting http://www.jeromes.com.
###