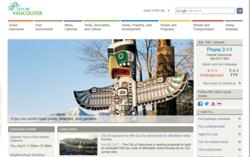 With a publically admitted $3 million dollar price tag you're setting yourself up for scrutiny and thus should ensure that the bases of today's internet marketing landscape are covered before going live.
Vancouver, BC, Canada —
August 10, 2012 (PRWEB) August 10, 2012 -- On August 8/2012 the City of Vancouver announced the $3 million dollar price tag attached to their revamped website, allowing the public less than 24 hours to speculate what it would look and feel like when it went live the next day. Local TV, radio, newspapers, and online media awaited the release and each launched into public interest tirades in the early AM. With a $3 million dollar sticker price expectations were so high that no website could live up to the scrutiny and immediately the media and the public alike began picking apart the website. While a website is never truly complete, requiring frequent updates to content and functions, for $3 million dollars one should guarantee that on launch that there are no gaping holes in the system, design, or content from both a developer and user perspective, especially when tax dollars are involved. Deliver the goods and the public will be relatively content. However, after a 3 year process of research, planning, and implementation the end result is not quite what people expected.
While the City of Vancouver website is certainly a world class website with great functionality, Standard Marketing cites a few noticeable flaws in the website that should have been addressed before launching. First of all, the Social Media Integration is severely underutilized. Social Media icons linking to the City of Vancouver Social Networks receive minimal exposure on the home page and completely disappear when users navigate onto any other page. There's also the glaring omission of the all-important Google+ network and practically no use of Social Media plug-ins, keeping users from commenting on, interacting with, and sharing content found on the City of Vancouver website. Content also suffers from omissions and lack of updates. For example, the Parks & Recreation page seems to pick and choose some points of interest and leaves out others. They also site a public lake under their enjoyable Beaches section neglecting to mention that Trout Lake is currently under bacteria advisory that makes the lake unsafe to swim in, which has been the case year after year. This kind of omission is embarrassing for a public service portal and shows that the new website is simply pulling old data from the old P&R website and has not in fact been updated properly. Aside from more opinionated public feedback on the City of Vancouver website regarding aesthetics, one aspect that cannot be overlooked is the complete lack of Mobile Website Optimization. Instead of being optimized for smartphones and tablets, all users view is a shrunken version of the desktop site. The menu, the submenus, the text, and the images all display in small form and the users have to pan the screen left to right to see content. At $3 million dollars, the public will expect more from their city's website.
Standard Marketing Ltd's Social Media Manager and Content Developer Marcus Maraih comments "We can't stress enough that a website is never truly complete and that it's often difficult to provide a summary based solely on the surface, but there are some obvious issues here that even the general public will notice. With a publically admitted $3 million dollar price tag you're setting yourself up for scrutiny and thus should ensure that the bases of today's internet marketing landscape are covered before going live. The City of Vancouver should have waited another week to at least add full Social Media integration and Mobile Optimization. Otherwise, they open themselves up to warranted criticism." Standard Marketing is optimistic however, that the City of Vancouver will close the gaps over the next few weeks and will provide tax payers with an optimally functioning and user friendly website.
ABOUT Standard Marketing Ltd.
Standard Marketing has been in internet marketing for over 12 years, based out of Vancouver, BC. We have an A+ rating with the BBB, and we're Certified in Google Analytics. We have clients in Vancouver, Toronto, San Diego and throughout North America. Some of our internet marketing team has been in marketing and advertising for 30 years and we are experts in all aspects of digital, website, and internet marketing. Contact Standard Marketing today to make your website serve you better.