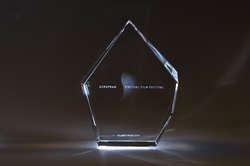 "Our goal in making City of the Dawn is to inspire people to focus on the oneness of humanity," said Chris Buhrman, director of the film.
Chicago, IL (PRWEB) May 25, 2010
City of the Dawn, a film documentary on Auroville and human unity, is available for purchase by individuals or organizations, following the awarding of the Planet Prize at the closing ceremonies of the European Spiritual Film Festival, March 27-28, 2010, in Paris, France.
The documentary film explores Auroville, India, a community of 2,000 from 40 nations founded on principles of shared leadership, sustainable development and new consciousness. The Planet Prize Award is given to the film that offers the most significant impact for the enrichment and improvement of our world.
The screening, attended by approximately 150 people, was followed by a panel discussion featuring Auroville associates and representatives of UNESCO (United Nations Educational, Scientific and Cultural Organization). The panel provided a spirited exchange about Auroville and the importance of the film in spreading the message of the need for unity on this planet.
City of the Dawn was also featured as an "Official Selection" at the Idyllwild International Festival of Cinema (IIFC) on January 11-16, 2010.
"Our goal in making City of the Dawn is to inspire people to focus on the oneness of humanity," said Chris Buhrman, director of the film. "Thinking about the bigger picture and living in conscious awareness of oneness is really vital to the evolution and survival of our planet," Chris added.
City of the Dawn started with the desire of Francis Rothluebber, board President of New Momentum for Human Unity, to create a documentary about Auroville to demonstrate the power of human unity. "This award is shared by many," said Francis Rothluebber, "beginning with the initial determination of the founders, then the adventurous people who undertook the creation of Auroville and those who continue the work, the representatives of Auroville who shared their experience and those who assisted us, The Duncan Group, Independent Edit, and, finally, those who contributed their hard work and artistry to create the film."
"We are thrilled by the interest the film has generated," said Dexanne Card, Executive Director of New Momentum for Human Unity, "and envision that individuals and groups from a wide range of disciplines and practice areas will be studying the film to explore the possibilities of a new blueprint for the future of humankind."
The people of Auroville are working to develop innovative and inclusive solutions in every aspect of human social life: caring relationships, participative government, arts and education, architecture and building materials, complementary medicine, reforestation and sustainable industries.
To learn more about the City of the Dawn, and to arrange for a group screening, please contact Dexanne Card, 773-259-2565. To order copies for private/personal home use, please visit http://www.dgcompanystore.com/cityofdawn.html
About European Spiritual Film Festival (ESFF)
The European Spiritual Film Festival showcases films that explore spiritual traditions from around the world and their different practices. It allows the public a platform for vast discovery, understanding, and respect. The festival encourages an emerging generation of filmmakers whose films treat different aspects of spirituality and the human experience. For more information, visit: http://www.festival-esff.com/
About Auroville
Auroville is a city in southern India dedicated to human unity. Based on the visionary charter of its founders, the purpose of Auroville is to realize human unity – in diversity. Today, Auroville is recognized as an internationally endorsed ongoing experiment in human unity and transformation of consciousness. Residents are also concerned with, and practically researching, sustainable living and the future cultural, environmental, social and spiritual needs of humankind. For more information, visit: http://www.auroville.org
About New Momentum for Human Unity (NMFHU)
The mission of New Momentum for Human Unity, a 501(c)3 not-for-profit organization, is to create a better life on and for this planet through the evolution of human consciousness and the transformation of human relationships, by encouraging mindfulness of our interconnection and by the power of selfless love. Through programs and projects that offer tools and resources, New Momentum intends to help people create the inner shifts – the changes in perspective and motive – that lead to changes in the world that will become evident in renewed and improved relationships with each other and the environment. For more information, visit: NewMomentumFHU.org
###