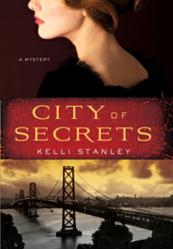 "Domestic terrorism and political extremism aren't new problems—neither is the vitriol in today's politics."
San Francisco, CA (PRWEB) October 05, 2011
CITY OF SECRETS, Kelli Stanley's newest mystery novel from Minotaur Books, focuses on a little-known chapter of pre-World War Two history: anti-Semitic extremist groups and domestic terrorism.
Set in the bustling San Francisco and rural Napa Valley of 1940, CITY OF SECRETS describes a city and Bay Area far less liberal than later decades would prove.
Like Stanley's critically-hailed CITY OF DRAGONS, which introduced hardboiled private eye and ex-escort Miranda Corbie and recently won the prestigious Macavity Award for best historical mystery of the year, CITY OF SECRETS features a number of familiar names from actual history—including that of Sally Rand, the burlesque queen who invented the fan dance and who held court at her "Nude Ranch" on Treasure Island during the 1939-1940 San Francisco World's Fair.
Some of the names, however, will be less familiar—especially those associated with a pro-fascist and anti-Semitic organization called "The Musketeers," founded in San Francisco in 1937.
"There were quite a few pro-fascist groups active on the West Coast, a number of them in San Francisco," Stanley explains. "Most adopted pseudo-military, American Revolution-sounding names like the 'National Liberty Party' or 'Militant Christian Patriots.' These people didn't identify themselves as pro-German Nazis, like the German American Bund, though they shared many of the same beliefs."
The Musketeers play a major role in CITY OF SECRETS. "They hated FDR and the New Deal, were strongly isolationist, and believed they were patriotic Americans ... they thought it was their duty to boycott, harass, and even assault Jews, labor leaders, and anyone they considered left of Hitler. In New York City, a group called 'The Christian Front' stockpiled weapons and planned to bomb public buildings. They were eventually caught by the FBI. Domestic terrorism and political extremism aren't new problems—neither is the vitriol in today's politics."
In CITY OF SECRETS, Stanley's iconic Miranda Corbie—a protagonist who has been compared to Sam Spade and Philip Marlowe and who Stanley describes as a "femme fatale in gumshoes"—discovers the existence of the Musketeers while she's working on a murder case.
Pandora Blake, a young model at one of the many "flesh shows" popular during the World's Fair, is found stabbed to death with an ice pick, an anti-Semitic epithet scrawled in blood on her nude body. Miranda is hired by a defense attorney to investigate the crime.
Stanley continues: "Miranda Corbie is a broken idealist, a woman who fought in Spain during the Spanish Civil War, lost her lover, and is fighting to regain a sense of self. She's my attempt at showing the past with the gloves off, a glimpse of real life behind the censorship code in Hollywood. We think of the '30s and '40s through the films of the era, not realizing that they were sanitized make-believe. The Miranda Corbie series illustrates both the beauty and ugliness of pre-War America."
One of the uglier aspects of American history was the pseudo-science of eugenics, which led to forced sterilizations of American citizens. American scientists exerted a major influence on Hitler's eugenics policies and through them, the unspeakable tragedy of the Holocaust. Eugenics and California eugenics law plays a role in the plot of CITY OF SECRETS.
"We take our civil rights for granted. Whether it's the right to form a labor union or the right to have a child—or even the right to vote, which was only granted to women in 1920—these things can and will be eroded if we're not aware of history. If we don't stand up and fight for what so many people have struggled and even died for.
"My hope is that CITY OF SECRETS and the Miranda Corbie series help people understand the importance of civil rights ... and what life was like when businesses could legally hire 'Christians Only', or when sterilizations could be mandated by the state. We need to take a look back to see how far we've come. And hopefully, that look back will keep us moving forward ... not backward."
CITY OF SECRETS has already met with the same early critical acclaim as its predecessor; Library Journal awarded a coveted star and called it "Neonoir in a classical five-act structure, starring one of crime's most arresting heroines: angry, big-hearted, and fearless Miranda Corbie." Critic Oline Cogdill in the South Florida Sun Sentinel agreed: "An outstanding addition to what will be a superb series."
Stanley is embarking on a West Coast tour to promote the novel. CITY OF SECRETS is available wherever books are sold, in hardcover or e-format. CITY OF DRAGONS, the first novel in the Miranda Corbie series, is also available in trade paperback and audio. It won a Macavity Award and was nominated for many others, including the Los Angeles Times Book Prize and a Shamus Award. For more information about the books or Kelli Stanley, please visit her website. For review copies, please contact Sarah Melnyk at Minotaur Books.
###