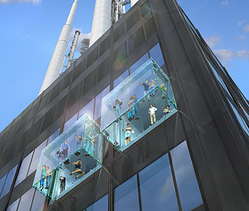 Chicago, IL (PRWEB) July 3, 2009
The heart pounding excitement of a fast elevator ride and 103rd floor views from the Sears Tower Skydeck are no secret. The story has, however, just gotten more thrilling. Now visitors can test their curiosity and courage from a new angle: step into one of four glass enclosures for the gasp-inducing, straight-to-the-sidewalk view between their shoes.
The show stopper of the Skydeck's multi-million dollar renovation is the addition of four glass enclosures that project 4.3 feet into space. At 103 floors above street level. Three layers of half-inch glass are fused, designed to hold five tons, are described as "glass ledges." That should be no problem since four or five persons will venture into one of the transparent booths at any given time. There'll be as much looking down as gazing out on the four-state vista.
The glass projections are retractable; that way, the six roof-mounted robotic window washers that tend to the skyscraper's 16,100 windows will not get confused.
More than 1.3 million visitors enjoy the sights and interactive experiences at the Skydeck each year. There's plenty of room for strollers, scooters and wheelchairs. Child-high features - amid the explanations of Chicago history, sports, characters, and architecture - bring Windy City life into perspective for kids. Tap into facts and stories on the touch screen kiosks in English, French, German, Japanese, Polish or Spanish. Focus high-tech, high-power telescopes on iconic Chicago landmarks, such as Soldier Field, the Wrigley Building or Merchandise Mart.
Summer is particularly multi-faceted at the Sears Tower. Blend ground-level Chicago tastes and music into a visit: On Thursdays, 7 a.m.- 2 p.m. until October 29, there's picnic fare at the Farmers Market; Fridays, during lunch, there's a Plaza concert series (until September 4).
By the time school starts this fall, the name of the Sears Tower will change to Willis Tower, in accordance with the building's agreement with a major lessee. Don't miss your chance to get Sears Tower gifts and souvenirs before the switch.
Chicago CityPass' Sears Tower Skydeck admission includes Fast Pass, to hasten your way through the lines. Skydeck is open every single day of the year; till September, plan a visit to arrive at least 30 minutes before its 10 p.m. closing time. From October to March, Skydeck is open from 10 a.m. until 8 p.m.
# # #