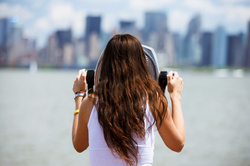 New York City, New York (PRWEB) March 8, 2009
Everyone from kindergartners to college professors is counting the days until Spring Break. This year, the smart money is on a bargain-priced big city great adventure. CityPass is the right-price answer to what to do and see. Priced 44% less than regular admissions purchased separately, it's a ticket booklet with six of the most famous, big name, most loved attractions in New York City. Act fast: Buy an e-ticket in March to travel to New York before June 1 and you'll save $5 on each adult and youth ticket. A 2009/10 price adjustment for increased attraction admissions goes into effect on April 1, 2009: Adults, $79 ($140 if purchased separately); youth, 13-17, $59 (a $111 value).
CityPass delivers the must-see highlights: the Empire State Building, world-famous Metropolitan Museum of Art, Museum of Modern Art, Guggenheim Museum, American Museum of Natural History, and a choice of Circle Line cruises or a trip to the Statue of Liberty. Between tickets, there are free urban experiences offering memories that last a lifetime, but don't have to cost an extra dime, such as the views from Times Square's red glass bleachers -- over the TKTS booth.
On each admission ticket is the CityPass secret to zip past main ticket lines to enter. New York CityPass booklets fit in a pocket, and serve as a fast guide to the city -- with attraction details and hours of operation, tips, transportation routes, a map, a Bloomingdale's shopping value, and four pages of off-beat insider recommendations from National Geographic Traveler magazine. CityPass is valid for nine days, but don't be fooled: This A-list of attractions easily condenses to an action-packed long weekend itinerary.
Hotels are rolling out special offers. New York Sunday Stays program offers 20-30% off a hotel stay and added features. Move fast, to snag great restaurant deals: Until March 20, at least 130 restaurants offer three-course lunches for $24.07, and three-course dinners for $35. Take advantage of reduced room rates, offers of free parking, breakfast, or unique amenities. Use a little imagination to see the theater scenes playing out on every street corner--stylish matrons on the swanky Upper East Side, cello-lugging musicians on the West Side, elegant ballerinas crossing Lincoln Center's plaza, and surging humanity at every mid-town crosswalk.
For more information, a peek inside a New York CityPass booklet, and to buy an e-ticket, click on Spring Break in New York City.
# # #