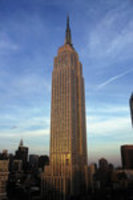 It's as close to heaven as you can get.
New York, NY (PRWEB) January 29, 2009
No matter where you leave your heart, CityPass®, the company known for assembling the continent's most-visited city attractions in convenient booklets, makes it easy and affordable by bundling the best in each city and topping it off with a romantic suggestion, on Valentine's Day or any day marked for romance.
For traditional head-in-the-clouds romantics in New York, Toronto, Chicago, Boston and Seattle, consider the obvious - the city's landmark viewing towers. Yes, it's been done before. Yes, the air could be swirling with proposals, but North America's best viewing towers are open late and there's always a camera nearby to capture the moment. Because love won't wait, CityPass breezes ticket holders past main entrance lines at a savings of about 50% off box office prices and frosts the most-loved attractions in each city with fabulous views.
New York: Empire State Building Observatory--practice your favorite Empire State Building line from almost 100 movies (or stick with Affair to Remember--"It's as close to heaven as you can get.") Also included in CityPass: The Museum of Modern Art (MoMA), The Metropolitan Museum of Art, Guggenheim Museum, The American Museum of Natural History, and a visit to the Statue of Liberty aboard Statue Cruises or a romantic Circle Line Sightseeing Cruise; $79.
Toronto: CN Tower--is the world's tallest building (1,465 feet) with a glass floor to capture that floating feeling, and a revolving restaurant completing one revolution every 72 minutes--plenty of time to consider your future together. Also: Casa Loma Castle, Ontario Science Centre, Royal Ontario Museum and Toronto Zoo; $59 CAD.
Chicago: The Hancock Observatory or Sears Tower SkyDeck -- the view sweeps across skyline, moody Lake Michigan and four nearby states. Use the photo taken at the entrance as your engagement announcement. Also: The Field Museum, Shedd Aquarium, Adler Planetarium & Astronomy Museum, and Museum of Science and Industry; $69.
Boston: The Skywalk Observatory--the only observatory in all of New England, with the Top of the Hub restaurant on the 52nd floor serving cuisine as gorgeous as the view. Also: Museum of Fine Arts, Boston, Museum of Science, New England Aquarium and either the Harvard Museum of Natural History or John F. Kennedy Library and Museum; $44.
Seattle: Museum of Flight--a museum headed by an astronaut knows a thing or two about the wild blue yonder. The museum's collection includes more than 150 historically significant air- and space-craft, as well as the largest aviation and space library on the West Coast. Or choose the option ticket to the Experience Music Project & Science Fiction Museum. Other CityPass attractions: Pacific Science Center, Seattle Aquarium, Woodland Park Zoo, and a romantic Argosy Cruises Harbor Tour passing the famous houseboat where Tom Hanks and his movie son wait to meet Meg Ryan in Sleepless in Seattle; $44.
San Francisco: Cable Cars--Who needs a viewing tower when those famous cable cars climb to the stars? CityPass includes a week of unlimited transportation on cable cars, light rail and city buses. Attraction tickets include the newly reopened California Academy of Science, San Francisco Museum of Modern Art, de Young Museum in Golden Gate Park and the Legion of Honor or the Exploratorium, and romantic Blue & Gold Fleet Bay Cruse Adventure under the Golden Gate Bridge. $59.
Houston: Space Center--Feel like telling the moon about your love? Head to Space Center Houston, the official visitor center of NASA's Johnson Space Center. Other CityPass attractions: Downtown Aquarium, Houston Museum of Natural Science, Houston Zoo, the Museum of Fine Arts or The Children's Museum, and your choice of the George Ranch Historical Park or The Health Museum. $39.
CityPass is also available in Philadelphia, $58; Atlanta, $69; Hollywood, $59; and Southern California, combining Anaheim and San Diego theme parks, $259. Youth prices are available. Booklets are valid for nine days from first use. CityPass is the best deal of any season and may be purchased at http://www.citypass.com or at any participating attraction. For more information, to take an online page-by-page look inside CityPass ticket booklet or to link to each attraction, click on http://www.citypass.com. Prices valid from 4/1/09 to 3/31/2010. Recorded information is available at 707-256-0490 or toll free (U.S./Canada) 877-THEPASS (877-843-7277). CityPass. It's the ticket that makes the trip.
###