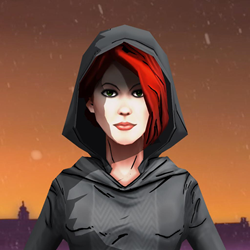 "For over 1000 years London has captured the imagination of millions," said Seery. "More than any other city in the world, London's ancient Square Mile is the perfect setting to explore and play games."
London, UK (PRWEB) December 17, 2015
City Quest Games today announces the release of its debut title, City Run London - an immersive adventure transporting the player through the ancient gate towers of 16th Century London. City Quest Games is a new studio with the goal of creating long-form experiences that push the capabilities of storytelling on mobile devices, consoles, and desktops.
City Run London merges the puzzle game genre with a deep plot, stunning soundtrack and spectacular visual aesthetic with a distinctive graphic novel look described by its creators as 'Tudor Noir'.
The player guides Willa, an agent provocateur whose reputation for stealth has earned her the nickname "The Moth", on a nightlong rescue mission across the city in a race with the dawn to free a prisoner wrongly held at the Tower of London. Players will travel with Willa through historic sites of Tudor London, keeping her safely in the shadows.
City Quest's founder/CCO Natasha Seery developed the title in partnership with Sine Wave Entertainment, creators of GoJiyo — a social virtual world of nearly two million players running continuously since 2010.
"For over 1000 years London has captured the imagination of millions," said Seery. "Ringed by a Roman wall with 24 catapult towers, and set on more underground passageways than any other city in the world, London's ancient Square Mile is the perfect setting to explore and play games."
The multi-award winning creative team has collectively sold over 60 million records, worked with everyone from Monty Python to Nirvana, the Human League and Heaven 17, Audio Slave and Muse. The are now channelling all that into long form beautiful and surreal games.  
Writer-historian, David Long and transmedia writer, Joshua Meadows, wrote the script for City Run London. David's books on London include Hidden City, Tunnels Towers and Temples and Little Book of London. Joshua's sci-fi novella series, Lyetra was a quarterfinalist in the Penguin Amazon Breakthrough Novel Awards in 2012.
Martyn Ware, a founding member of The Human League and Heaven 17, composed the game soundtrack. Martyn also produced Tina Turner and Erasure, and is on the soundtrack for Grand Theft Auto: Vice City Stories, and the UK version of The Office. Public art soundscape projects include SoundLife London commissioned by the Mayor of London covering the length of the Millennium Bridge to celebrate the 2012 Olympics.
Art Director Finlay Cowan is known for his best-selling books on painting and fantasy illustration as well as album artwork for bands including Pink Floyd, Muse, and Audioslave.
Enn Reitel and Juliet Cowan provided the voices. Enn is a vocal chameleon probably best known for his roles in British television series Spitting Image, and was recently heard in Steven Spielberg's Adventures of Tin Tin, and The Corpse Bride for Tim Burton. His TV credits include Family Guy, American Dad, Archer and Minoriteam, Boston Legal and Grey's Anatomy. Juliet is the voice of Willa and others in the game. She is known for acting roles in Hank Zipzer, Pitch Perfect, Goodbye to the Normals, EastEnders, Skins, the Sarah Jane Adventures and Shameless.
City Run London is available from the App Store on iPhone, iPad or iPod touch or at: http://www.AppStore.com/CityRunLondon. (iPad 2/iPhone 4 minimum requirement) and Google Play. A console version will be released later in 2016. Xbox One, PS4 and Vita versions are expected in Spring 2016.
For more information, visit City Run London's website at http://bit.ly/1M2qMT5. City Run London's You Tube channel, featuring trailers, behind the scenes, and game play videos, is at http://bit.ly/1GPwmRd.