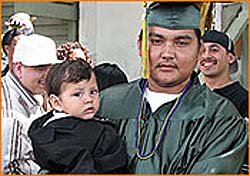 We are extremely proud of the Civicorps Schools Graduating Class of 2011.
Oakland, CA (Vocus/PRWEB) June 25, 2011
Civicorps Schools, located in Oakland, is announcing its Civicorps Academy graduation to be held on June 24 at 2 p.m.
This graduation will be special for the Oakland youth who are considered real community heroes.
Through their perseverance and hard work, they have achieved this success despite dropping out of school.
"A typical day for the graduates this past year meant that they were at 'line-out' at 7 a.m. to load tools on vans with their crews and supervisors. Then they would go out to work projects through contracts with agencies such as the East Bay Regional Parks District, the East Bay Municipal Utilities District, Alameda County Flood Control, The Cities of Oakland and Berkeley, the Oakland Fire Department, the Port of Oakland, and CalTrans among others," said Rebecca Grove of Civicorps Schools. "The hard physical labor ranges from weed-whacking, creek clearing, trail building and chain sawing to litter pickup and graffiti abatement and roadside beautification and maintenance. Then at 3:30 p.m., they return, unload and head to school from 4:00 to 6:30 p.m."
Oakland has a 40 percent high school dropout rate and while many dropouts end up in trouble with the law, this group of Civicorp graduates makes a positive impact within the community. Civicorps is a charter school and employer in Oakland that has worked hard on community beautification projects. The school has given these former students their first work experience and on-the-job training skills.
The graduating class is comprised of 27 students from the ages of 18 to 24. They organized their own prom and participated in two public theatrical productions, "A Midsummer Night's Dream" and "The Tempest," through the San Francisco Shakespeare Festival's Midnight Shakespeare program. Graduates of Civicorps had to pass all sections of the California High School Exit Exam and complete a portfolio of work that includes the completion of coursework and seminars, the demonstration of employability skills through the completion of acceptable resume and cover letter, interview skills workshop, and a career inventory paper. They have also received three positive evaluations from their supervisor. In addition, graduates completed a research paper and public speaking requirements. One of the graduates even decided to write a letter to Mayor Quan to explain the importance of Civicorps. By turning from dropouts to high school graduates, these Oakland youth from Civicorps have proven that nothing is impossible and that goals are achieved through perseverance and hard work.
"We are extremely proud of the Civicorps Schools Graduating Class of 2011," said Civicorps' Executive Director, Bill Zenoni. "This extraordinary group of young men and women has demonstrated great commitment to achieving their goal of earning their high school diploma. The energy and spirit of this graduating class serves as an inspiration to the other students of Civicorps Academy currently working on their own educational goals."
For more information about CiviCorps Schools, call (510) 992-7832or visit their website at http://www.cvcorps.org.
About Civicorps Schools
Civicorps Schools offers an interdisciplinary curriculum, which celebrates the arts and promotes civic engagement and environmental stewardship. Our Civicorps Academy provides hands-on job training for urban youth.
A national model for other corps and an international model for education, Civicorps Schools has changed the lives of thousands of youth and young adults by furnishing job, life, academic, and citizenship skills through environmental-service projects.
###