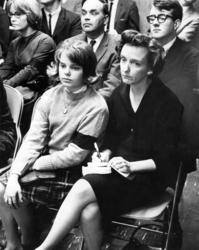 "Almost 50 years ago, I made a difference with just an armband. Can you imagine what a 13-year-old can do today with all of the other extraordinary speech tools available in the palm of her hand?
- Mary Beth Tinker
Washington, DC (PRWEB) April 23, 2013
Almost 50 years after she was suspended for wearing a black armband to junior high school to mourn those who had died in the Vietnam War — an act that led to a landmark U.S. Supreme Court decision on student rights — Mary Beth Tinker today launched a crowdsourcing campaign to raise money for a bus tour across America to tell her story to a new generation.
The Tinker ruling is still cited in nearly every student First Amendment case, and almost all American civics and history textbooks refer to it.
Tinker is now a pediatrics nurse, but speaks frequently with students about her case and the Constitution. Along with student rights attorney Mike Hiestand, they are looking to promote youth voices, free speech and a free press as part of what they're calling the "Tinker Tour."
"It's like having the opportunity to take someone like Rosa Parks on tour," Hiestand said. "In fact, I sometimes feel like I'm in one of those wonderful, feel-good Disney movies — and it's real-life!"
Tinker says they are accepting and have already received nearly 100 invitations through their Web site to speak at schools and conventions during the 2013-14 school year. They have also lined up endorsements from more than two dozen of the country's leading civics education, civil rights and journalism education and journalism advocacy groups.
Tinker says the tour goal is to bring real-life civics education lessons to schools and communities through her story and those of other young people.
"Almost 50 years ago, I made a difference with just an armband," Tinker said. "Can you imagine what a 13- year-old today can do with Facebook, Twitter, YouTube and all of the other extraordinary speech tools available in the palm of her hand? We look forward to reminding her — and sharing real-life stories about how students today are keeping the First Amendment alive."
Tinker and Hiestand are hoping to raise at least $50,000, which would fund a fall tour through their StartSomeGood.com campaign. Their final goal is $115,000, which would fund a full five-to-six month school year tour. Ideally, Tinker said, they would love to find an individual or organization willing to donate a reliable bus or RV that they can borrow during the non-summer months of their tour.
Donations are being coordinated through the nonprofit Student Press Law Center, a nonpartisan organization with nearly four decades of experience supporting youth voices. The SPLC has agreed to make the tour one of its special projects, helping with tour logistics and collecting funds under their 501(c)(3) umbrella, which will make donations to the tour tax-deductible.
About Mary Beth Tinker
Mary Beth Tinker was born in 1952 and grew up in Iowa, where her father was a Methodist minister. Her parents believed that religious ideals should be put into action, and the whole family became involved in the civil rights movement in the 1960′s.
By 1965, about 170,000 U.S. soldiers were stationed in Vietnam. Graphic footage of the war was carried into households everyday in this first "televised" war. As a 13-year-old student in eighth grade, Mary Beth was strongly affected by this news. She and her brothers and sisters, along with other students in Des Moines, decided to wear black armbands to school to mourn the dead on both sides of the conflict. The armbands were also in support of a Christmas truce called by Senator Bobby Kennedy that year. The Des Moines school board tried to block the students from wearing the armbands, and most of the students who wore them were suspended.
The case eventually went to the Supreme Court, which ruled in a landmark 1969 decision that students in public schools do have First Amendment rights.
Mary Beth continues to educate young people about their rights, speaking frequently to students groups across the country.
About Mike Hiestand
Mike Hiestand grew up an Air Force "military brat," and lived all over the country. He is a graduate of Bartlett High School in Anchorage, Alaska, Marquette University's College of Journalism and Cornell Law School. Mr. Hiestand was the staff attorney for the nonprofit Student Press Law Center, located just outside Washington, D.C., between 1991-2003 and worked full-time as the Center's sole consulting attorney until 2012. He continues to assist student media and work with the SPLC on special projects affecting the student press community. Over the years, Mr. Hiestand has provided legal assistance to nearly 15,000 high school and college student journalists and their advisers.
He has written and lectured extensively on legal issues affecting the student media and is the primary author of the third edition of the Student Press Law Center's book, Law of the Student Press.
Mr. Hiestand has filed friend of the court briefs on various First Amendment and media law issues with appellate courts across the country and before the U.S. Supreme Court in nearly every significant free speech case affecting youth speech over the past two decades. He is a member of the bars of Washington State and the U.S. Supreme Court.
Mr. Hiestand is also the founder and president of Houstory, which is the creator of both the Home History Book archival journal and the Heirloom Registry.
Ms. Tinker and Mr. Hiestand can be reached for interviews through the tour's Web site at http://www.tinkertourusa.org or by e-mail at: tinkertour (at) gmail (dot) com