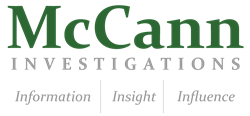 Houston, TX (PRWEB) December 30, 2012
McCann Investigations, a Texas-based private investigations firm is pleased to announce the release of investigators tips for background investigations. McCann Investigations performs background checks for companies and individuals. The " typical" background check using the standard internet tools can provide a national criminal background check but often omits key information such as civil litigation searches. This type of limited information can miss some of the most important information since the typical c-level executive will most likely not have any criminal background. It is more likely that these subjects could have extensive civil filings that can provide insight into undisclosed business matters.
The difficulty that arises in researching civil litigation history is the fact that there is no centralized database for all civil court records. Some counties provide online records, but many require that records be obtained in person at the court house. It takes a skilled and experienced investigator to navigate various resources and compile a comprehensive report that encompasses civil backgrounds.
About McCann Investigations
http://www.mccanninvestigations.com
McCann Investigations is a full service private investigations firm providing complete case solutions by employing cutting-edge computer forensics and traditional PI tools and techniques. For 25 years, McCann's investigators have worked in the public and private sector encompassing law enforcement, physical and electronic security and computer forensics.
McCann works with Law Firms, Financial Firms, Private and Public companies and individuals in cases including contentious divorce, child custody issues, fraud, embezzlement, spyware/malware detection, civil and criminal background investigations, due diligence.
McCann Investigations tools include:
· Computer Forensics
· Mobile Device Forensics
· Spyware/Malware Detection
· Network Breach Detection
· Digital Debugging
· IT Network Vulnerability Assessments