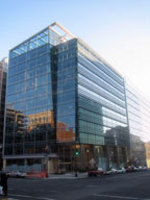 Driven by the building architecture, it was imperative that aesthetics not be sacrificed to obtain LEED status
Richmond, VA (Vocus) April 7, 2009
Timmons Group, an ENR 500 Design Firm and a leader in multi-discipline civil engineering consulting services, announced today that the firm's recently completed 1050K Street project in Washington, DC has received LEED® Gold Certification.
Timmons Group's team of experts contributed comprehensive professional services that included civil engineering, landscape/hardscape, green roof design, drip irrigation design, stormwater mitigation and rainwater harvesting design, landscape, civil and irrigation construction administration, topographic survey, construction stake out and LEED certification support.
1050K Street is an 11-story, 140,000 square foot Class A office building located in the heart of Washington, DC on the site of a former parking lot. The Lenkin Company assembled a comprehensive team of landscape architects, horticulturalists, civil engineers, irrigation specialists, architects and construction administration experts to develop this world-class example of green building.
Timmons Group collaborated closely with the Hickok Cole Architects to cultivate the concept of a "living" building that would blur the lines between inside and out. The resulting design involves 2 levels of green roof with 1 level doubling as an overlook and entertaining terrace. Roof water, chiller water and plaza run-off is collected in a cistern underneath the building. Cistern water is then filtered and pumped to the irrigation system and through a water feature bordering the entrance lobby and into a series of three urban bio-retention areas integrated into the plaza design. Drip irrigation has been designed for all planting areas to conserve and optimize use of water from the cistern. The irrigation control system utilizes state of the art evapo-transpiration referenced programming via satellite which downloads information from local NOAA weather stations. For this ultra urban site, there is no runoff anticipated in a 2-year storm or less.
"Driven by the building architecture, it was imperative that aesthetics not be sacrificed to obtain LEED status," said LuGay Lanier, CLA, landscape architect with Timmons Group. "The building's functional spaces, such as transparent galleries and an exquisite entry, have been mirrored in concept with the exterior. Plaza hardscapes and bio-retention areas showcase an environment of prestige."
The Leadership in Energy and Environmental Design (LEED) Green Building Rating System™ encourages and accelerates global adoption of sustainable green building and development practices through the creation and implementation of universally understood and accepted tools and performance criteria. LEED is a third-party certification program and the nationally accepted benchmark for the design, construction and operation of high performance green buildings. LEED gives building owners and operators the tools they need to have an immediate and measurable impact on their buildings' performance. LEED promotes a whole-building approach to sustainability by recognizing performance in five key areas of human and environmental health: sustainable site development, water savings, energy efficiency, materials selection and indoor environmental quality.
About Timmons Group
Timmons Group is an ENR 500 multi-disciplined professional services firm and a leading provider of civil engineering, environmental services, GIS and Geospatial technology services, geotechnical engineering, construction management, landscape architecture and land surveying. The firm's subject-matter experts deliver a wide-range of specialties including site development design & engineering, transportation engineering and highway design, water and wastewater facilities design, land and community planning, traditional neighborhood design, stormwater management, LEED® and sustainable design and urban planning to both public and private clients throughout the Mid-Atlantic region. The firm employs more than 350 people and has corporate headquarters in Richmond, Virginia, and regional offices in Virginia Beach, Virginia; Charlottesville, Virginia; Prince George, Virginia; Ashburn, Virginia; Greensboro, North Carolina; Charlotte, NC and Raleigh, North Carolina.
For more information about Timmons Group, visit http://www.timmons.com .
Media contact:
Tim Asimos, Marketing Manager
Timmons Group
804.200.6375
###