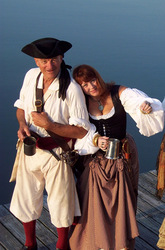 From the Sea to the Stars
Hampton, VA (Vocus) October 6, 2009
Hampton, the Civil War site where Union General Benjamin Butler asserted slaves were contraband of war, the founding site of NASA and training ground for America's first astronauts, has a compelling history inextricably aligned with our great nation. North America's oldest, continuous English-speaking settlement will celebrate its 400-year anniversary with a year-long calendar of festivities, speaker series, and legacy programs, all open to the public. The anniversary of Hampton's official founding date, July 9, 2010, will be replete with Blackbeard Pirate Festival and Ball, ornate character vessels docked on the downtown waterfront, spectacular fireworks, and more.
Hampton's history is traced to April 30, 1607 when Captain John Smith and company landed at Kecoughtan. They declared the land brought them "great comfort," before continuing upriver to establish Jamestown. On October 1, 1609, Fort Algernoune, one of America's first forts, was constructed at Point Comfort--the site several fortifications would occupy until construction commenced on Fort Monroe in 1819. Hampton's quadricentennial celebrations begin this month at Fort Monroe with a Federal naturalization ceremony to be held on the post's historic parade ground and the Fort Algernoune Conference located at The Chamberlin, also on the Army installation.
A calendar of Signature Events, including such events as the December 31, 2009, New Year's Eve gala at The American Theatre in the Phoebus district, the Hunt for Hampton History--a showcase of the city's rich and diverse history themed "From the Sea to the Stars," and Thunder on the Bay, a drumming and dancing pow-wow focusing on the Native American heritage and presence in the community , along with such annual favorites as the Afrikan American Festival and Hampton Bay Days, will commemorate significant occurrences, achievements and heritage in Hampton.
Dedicated exhibits at Hampton's cultural and fine arts attractions will recognize the invaluable contributions of the arts and photography in tracing Hampton lifestyle from snapshots of everyday life, to paintings and multimedia interpretations of the four centuries' most pivotal events. These exhibits include the Cheyne Photography Exhibit at Hampton
History Museum, "The city of Hampton: Through the Lens of Reuben V. Burrell and James Van Der Zee" at Hampton University Museum and "A Place Very Pleasant to Inhabit" at the Charles H. Taylor Art Center.
A series of anniversary legacy projects include the fabrication and placement of 50 historical markers that interpret the significant historic sites throughout the city. A 400th Anniversary Statue will also be unveiled on the downtown waterfront. To further preserve the past, the City of Hampton will collect 100 Oral Histories shared by Hampton residents, to air on local television several times over the course of the year.
St. John's Episcopal Church, the fourth site of worship of Elizabeth City parish which also dates to 1610, will also commemorate its anniversary this year. The parish will be presented with a cake baked and decorated by The Food Channel's Ace of Cakes.
Hampton's downtown waterfront district encompasses the site of the original 17th century seaport that served as port-of-entry for commercial vessels from Europe, Africa and the Caribbean. Today, downtown Hampton is enhanced with cobblestone streets lined with red brick sidewalks, crepe myrtle trees and eclectic shops and eateries. It is dotted with restaurants, pubs, art galleries, shops, marinas and waterfront parks. Inviting attractions like the Virginia Air & Space Center, Hampton History Museum, Hampton University, Fort Monroe, harbor tours and Chesapeake Bay beaches draw visitors year-round. 400th Anniversary packages are available at hotels throughout Hampton. Go to visithampton.com for details.
The Hampton 400 committee consists of Hampton citizens and representatives of businesses, churches, neighborhoods, Hampton University and the City of Hampton. For further information on Hampton's 400th anniversary celebrations, legacy projects, commemorative exhibits and other festivities, visit http://www.Hampton400.com or call 757-726-5437 or 757/727-8311.
Partially bordered by the Hampton Roads harbor and Chesapeake Bay, Hampton is located in the center of the Hampton Roads metropolitan area. Hampton is the site of America's first continuous English-speaking settlement and is home to such visitor attractions as the Virginia Air & Space Center and Riverside IMAX ® Theater, the Cousteau Society, Hampton History Museum, harbor tours and cruises, Hampton University Museum (the oldest African American Museum in the US), Aberdeen Gardens, Fort Monroe (Freedom's Fortress), award-winning Hampton Coliseum, The American Theatre, among others. Hampton was twice-named All-America City, the nation's oldest and most prominent community recognition award.
###