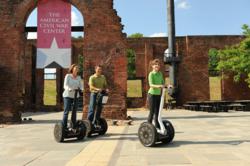 Richmond, Virginia (PRWEB) February 27, 2012
As the country commemorates the 150th anniversaries of the Civil War and Emancipation, travelers are looking for opportunities to learn about the conflict that divided our nation. As the former capital of the Confederacy and a center of the nation's slave trade, Richmond, VA offers a wealth of Civil War and Emancipation experiences that can help Americans better understand our shared history. On the third annual Civil War and Emancipation Day, April 14, 2012, visitors are invited to enjoy a day of special events with free entry into nearly 30 sites and attractions, and free transportation between the sites. From discussions with leading Civil War scholars to guided tours of historic Richmond sites, cannon firings to children's games, song and dance performances to canal boat rides, Civil War & Emancipation Day provides a wonderful opportunity to explore Confederate, Union and African-American history as well as history about life on the home front during the war.
Additional activities include a marketplace, special exhibits, artifact washing, and mingling with historic interpreters. Guests will have the opportunity to visit attractions such as the Virginia State Capitol, Museum of the Confederacy, Black History Museum and Cultural Center of Virginia and American Civil War Center at Historic Tredegar, the first museum in the U.S. to explore the war through three interwoven perspectives: Union, Confederate and African-American. Guided tours of the Richmond Slave Trail will be available and participants can tour on wheels by taking a Segway ride. More information about the day's events and participating organizations can be found at civilwar.emancipationday.net.
An exciting new addition to this year's Civil War and Emancipation Day is the Richmond Adventure Race, an Amazing Race-style competition where teams solve riddles and hunt for clues in the quest to reach a final destination and take home a prize of $1,700. The footprint of the race will be focused downtown beginning at Historic Tredegar Ironworks along the James River, a National Historic Landmark that served as the primary iron and artillery production facility of the Confederacy during the war. Registration and details at RichmondAdventureRace.com.
Richmond Region hotels have developed special lodging packages that will be available for Civil War and Emancipation Day and for the duration of the 150th commemoration. Package details as well as a full calendar of events can be found at http://www.OnToRichmond.com, the Richmond Region's official Civil War and Emancipation 150th web site. The Crowne Plaza Hotel Richmond Downtown is offering Richmond Adventure Race participants a special rate of $89 including breakfast and self-parking.
Civil War and Emancipation Day is produced by Future of Richmond's Past, a collaborative effort among leaders of Richmond's historical societies, museums, commissions, cultural and tourism organizations, and educational institutions to frame Richmond during the 150th commemoration. Admission to most sites and performances is free. Reservations and fees apply to the Civil War Sampler bus tour, special exhibits at the Virginia Museum of Fine Arts, and the Richmond Adventure Race.
The Richmond Metropolitan Convention & Visitors Bureau (RMCVB), the official destination marketing and tourism organization for the Richmond Region, is a private, not-for-profit organization dedicated to promoting the Region to meeting planners, tour operators and leisure travelers. RMCVB operates three Visitor Centers located at the Greater Richmond Convention Center downtown, the Richmond International Airport and Bass Pro Shops Outdoor World in Hanover County.
More than 6 million people visit the Richmond Region annually, contributing more than $1.75 billion to the local economy. Tourism generates nearly 20,000 jobs in the Richmond Region. For more information, visit http://www.VisitRichmondVA.com.
###