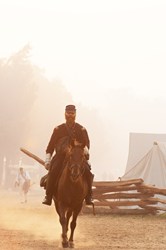 Prince William & Manassas,VA (PRWEB) August 01, 2013
Step back in time and be immersed in America's past as Prince William and Manassas commemorate a period that forever changed our nation. Starting in August, historians will host numerous tours, events and new programs that will tell the stories of the people, places and events that unfolded during the Civil War more than 150 years ago.
During the weekend of Aug. 23, Old Town Manassas will host a three-day Civil War Weekend that will allow visitors to make a personal connection to the events that transformed this once sleepy railroad junction into a battle ground.
Situated along the railroad tracks, this town played a key role in the Civil War. Today, the historic train depot remains open for both Amtrak and commuter trains while the quaint streets are filled with boutiques and locally owned restaurants.
During Civil War Weekend, families and Civil War buffs alike can experience history like never before with guided tours of historic sites, Civil War baseball games, living history, children's activities and a reenactment of Jackson's raid on Manassas Junction complete with BBQ, bourbon tastings and the burning of a railcar.
The Civil War commemorations continue in September and October as the Prince William Historic Preservation Division marks the 150th anniversary of the Battle of Bristoe Station, which was one of Lee's last offensive campaigns of the Civil War.
Join local and national historians Sept. 14-15 for a symposium and bus tour focusing on the personalities, battles and outcomes of this 1863 campaign. Come back Oct. 12 for a Bristoe Station battle anniversary weekend complete with battlefield tours, living history and educational tours.
Also this fall, the historic preservation division will launch a new mobile tour that will help connect visitors to the historic sites associated with the 1863 Bristoe Station campaign. Using their cell phones, visitors will be able to access maps, photos and narratives about the battle.
While commemoration events will continue through the fall, Prince William & Manassas are great destinations to visit any time to experience history. With countless miles of hallowed ground at Manassas National Battlefield Park, historic towns and dozens of Civil War sites, opportunities abound year-round to discover America's past.
For more information visit manassasbullrun.com