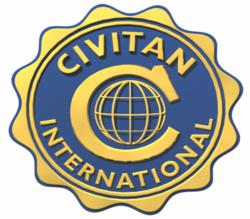 Las Vegas, NV (PRWEB) June 19, 2013
The newest chapter of Civitan International, a not-for-profit service organization founded in 1917 in Birmingham, Alabama -- held its charter dinner last week to officially form the car-themed club. Dedicated to improving the quality of life in the Las Vegas valley through automotive-themed service and fundraising projects, the initial thirty members met for dinner at PT's Tavern on Eastern Avenue to receive their Charter from the International office and install their first leadership team.
"We're proud to be affiliated with an organization that has such a long history of giving back to the community," said Mike Brown-Cestero, newly-elected President of Civitan Car Club Las Vegas. "With nearly 100 years of contribution – including the Civitan International Research Center at the University of Alabama – Civitan provides a great structure for us to organize our efforts effectively. Plus, with five other Civitan clubs in the Las Vegas Valley, we have plenty of other Civitans for support," he added.
The Club's first fundraiser will be 'Merican Muscle Car Show on Saturday, July 6, 2013. The car show will benefit the Civitan International Research Center and is open to all American-branded high-horsepower vehicles from 1949 and forward. There will be three voted awards and a judged "Best Of Show" award. For more information on the either the car show or the club, please contact Mike Brown-Cestero at mike(at)mikebc(dot)com.
About Civitan
Civitan International was founded in 1917 in Birmingham, Alabama. It's world-wide mission is to build good citizenship by providing a volunteer organization of clubs dedicated to serving individual and community needs, with an emphasis on helping people with developmental disabilities. Famous Civitans include Thomas Edison, President John F. Kennedy, U.S. Supreme Court Justice Hugo Black, astronaut James Irwin, President Bill Clinton, professional athlete Bo Jackson, and NASCAR legend Richard Petty, among others. More information at http://www.civitan.org .