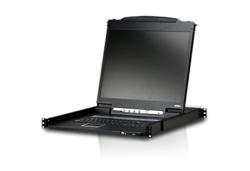 "The CL3000N is a green solution that speaks to the energy-conscious IT manager," explained James Hsieh, CEO of ATEN. "Our LCD display uses much less energy than competing products."
Foothill Ranch, CA (PRWEB) January 18, 2012
ATEN today announced the launch of a new industry-first, lightweight LCD console that serves as the front-end console for compatible KVM switches. The new CL3000N PS/2-USB LCD Console is equipped with a 19-inch power-saving LCD monitor and offers a space-saving, streamlined approach by integrating a keyboard, video monitor and touchpad all in one unit.
Due to its lightweight design, the CL3000N offers a simpler installation experience versus standard LCD consoles, allowing a single person to carry out a rack install. The unit's unique lightweight form factor is especially useful in government installations where military vehicles must comply to weight limitations. Loading the trailer in excess of these limitations is both illegal and unsafe. The CL3000N helps lower a vehicle's total weight to comply with these regulations.
Expending only 72.9 BTUs an hour and 21.4 watts, the eco-friendly CL3000N is far more energy-efficient than its competitors, saving up to 55 percent in power consumption. The CL3000N utilizes LED backlighting for its LCD flat panel instead of the cold cathode (CCFL) technology used in other LCD displays. LED backlighting is responsible for the CL3000N's distinguishing features, including a thinner panel (and, consequently, lighter weight), lower energy consumption, and more efficient heat dissipation.
The CL3000N is useful in the following scenarios:

Eco-friendly: The CL3000N is relevant to any organization seeking to curb excessive power consumption and reduce its carbon footprint.
Military: Its lightweight design is ideal for military vehicles that are subject to strict weight limitations.
Single-person installation: At 18.54 pounds (8.41kg), the CL3000N can easily be installed onto a rack by one individual.
"The CL3000N is a green solution that speaks to the energy-conscious IT manager," explained James Hsieh, CEO of ATEN. "Our LCD display uses much less energy than competing products. This not only greatly reduces power consumption, but also represents significant cost-savings for budget-minded IT professionals. We are committed to providing our customers with products that help reduce their carbon footprint and realize energy savings."
The following are the CL3000N's key features and specifications:
Integrated LCD console featuring a 19" monitor in a Slideaway™ housing
Green power – LED-backlit LCD monitor saves energy
Lightweight design for easier installation
Dual Interface – supports computers with PS/2 or USB keyboards and mice
Extra console port – manage computers from an external console (monitor, USB or PS/2 keyboard and mouse)
Lightweight design: 8.41 kg/18.54 lbs
Low power consumption: 120V, 21.4W / 230V, 22.7W
About ATEN
ATEN is a leading manufacturer of KVM (keyboard/video/mouse) switches in addition to remote management, LCD consoles, video and data connectivity solutions. The company's product line supports a range of data center, desktop and digital signage environments serving enterprise, government, SME and SOHO customers. ATEN has offices in California and New Jersey as well as Taiwan, Belgium, Korea, Japan, China and United Kingdom. For more information, contact ATEN at (888) 999-ATEN or 949-428-1111, via the Web at http://www.aten-usa.com, http://www.aten-usa.com/blog, Twitter or Facebook.
© Copyright ATEN 2012. All rights reserved.
ATEN, Altusen, are trademarks or registered trademarks of ATEN International Co., Ltd.
Other product or company names mentioned herein are the trademarks of their respective owners.
Note to Editors: When referring to ATEN, please print in all caps. Certain products announced by ATEN International (ATEN's corporate parent) may not be available for purchase in the U.S. Please contact above agency representative to confirm.
###