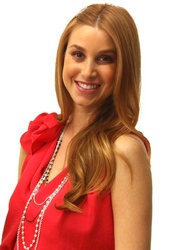 Prom is a fun and very memorable opportunity for girls to express their own personal style
New York, NY (PRWEB) March 17, 2011
Claire's, one of the world's leading specialty retailers of fashionable accessories and jewelry for teens, tweens, and girls, is proud to announce its social and interactive website for prom season, clairespromstyle.com. Prom Style, launching March 17th, will help young fashionistas find the perfect prom look in an interactive and personalized way with the help of The Hills and The City reality star Whitney Port. Participants will also have the opportunity to win sweepstakes prizes that will make their prom experience truly unforgettable.
Designed and developed in partnership with leading creative agency, Chandelier Creative, stylish girls enter the Claire's Prom Style site and learn their personalized style profile based on a fun, 10-question quiz. Participants are then invited to watch a video of tips and styling tricks about their style profile by fashion maven Whitney Port. Participants also have the ability to watch videos of Whitney discussing additional style profiles and share their quiz results and style video with friends on Facebook, Twitter, and email. They will also have the opportunity to browse a variety of glamorous and budget-friendly accessories and jewelry, all available at Claire's stores worldwide.
Participants will also have the ability to enter sweepstakes with exclusive prizes:

6 winners will receive $1000 to spend on the prom night of their dreams
2 Ultimate Prizes – private screening of Disney's Prom for 100 of their friends
1 Grand Prize winner will receive a walk on appearance in an upcoming Disney movie
All winners will receive a goodie bag of Claire's prom accessories
"Prom is a fun and very memorable opportunity for girls to express their own personal style," said Dan Mollerus, VP Global Marketing. "We were inspired to celebrate the individual for prom season and created an opportunity to guide and encourage our customers to explore their own unique style perspective and share the experience with their friends."
Claire's prom jewelry and accessories collection includes a wide selection of necklaces, earrings, bracelets, headpieces, hair accessories, rings, makeup, evening bags and gloves. For more information about Prom Style, please visit http://clairespromstyle.com.
ABOUT CLAIRE'S STORES
Claire's Stores, Inc. is one of the world's leading specialty retailers of fashionable accessories and jewelry at affordable prices for young women, teens, tweens and girls ages 3 to 27. The Company operates through its two store concepts: Claire's® and Icing®, while the latter operates only in North America, Claire's operates worldwide. As of July 31, 2010, Claire's Stores, Inc. operated 2,955 stores in North America and Europe. The company also franchises 201 stores in the Middle East, Turkey, Russia, South Africa, Poland, Greece, Guatemala and Malta, and has 207 stores in Japan through a 50:50 joint venture. Please visit http://www.claires.com.
ABOUT CHANDELIER CREATIVE
Chandelier Creative, founded in 2005 by Richard Christiansen, is a full-service creative agency based in New York City. With a diversified global roster of clients from the worlds of fashion, beauty, retail, travel and luxury lifestyle, the agency is dedicated to pioneering, revolutionizing and enhancing brand awareness for its distinctive client portfolio. Chandelier Creative is a unique destination for print advertising, television, viral marketing, retail strategy/design, branding, packaging, web design/development and non-traditional content. For more information please visit http://www.chandeliercreative.com.
# # #