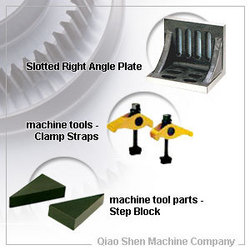 Thanks to our customers' long-term support and recommendations, our efforts have been recognized. We keep paying strong attention to assist customers with their prosperity in 2008
(PRWEB) June 11, 2008
For a new start for 2008, the Taiwan expert manufacturer of machine tools Qiao Shen Machine Company, is now ready to serve more worldwide machinery customers. It also provides a product catalog for detailed standard description and additional information, which brings a more integrated service.
With more than eighteen years of experiences in the field of machine tool manufacturing, Qiao Shen Machine Company has built up its great creditability to customers worldwide. It offers a comprehensive line of machine tools with a wide range of specifications and customized sizes. Its products include clamping kits, T-nuts & studs sets, screw jacks, clamping studs, clamping straps, coupling nuts, flanged nuts, step blocks and free vices. They can accessorize a customer's machine to maximize its performance and efficiency.
"Thanks to our customers' long-term support and recommendations, our efforts have been recognized. We keep paying strong attention to assist customers with their prosperity in 2008," said Ms. Shiau Ting Shih, Qiao Shen Manager, with confidence.
Outstanding quality control & factory management:
To effectively support an annual capacity of over 20,000 sets, the Qiao Shen factory, with 500 levels ground, is well supplied with horizontal and vertical CNC working machines and NC grinding machines. Supported by a flexible manufacturing and storage system, Qiao Shen has a high production efficiency and is able to swiftly respond to market demands. Accordingly, more customers including wholesalers and dealer agents can now purchase large amounts of fixtures and jig tools in one stop.
Based in Taiwan, Qiao Shen has cooperated with reliable upstream suppliers and guarantees high quality products. All products also pass strict inspections by downstream customers, which makes Qiao Shen more trustful than competitive markets.
In terms of its commitment of on-time delivery and better control over the warehouse, Qiao Shen delivers the in stock goods within one day, and two working days for special orders. After receiving a sample description and specification information, Qiao Shen not only follows through with a production plan on time, but is more flexible with working on a schedule to meet customers special delivery dates.
High recommended products:
Made from carbon steel, the Qiao Shen step block is heat treated and finished, and manganese phosphate coated, with a strong anti-rust resistance protection guaranteed. In addition to a hardness in the range of 32-38 HRC, this product has a more sturdy character and is accurate for fixing positions during the machining operations.
Qiao Shen free vice functions with modules, devices and equipment such as milling machines. Its unique steel clamp design with a hardness over HRC55, this vice comes as another excellent tool for holding and griping various size goods, and definitely enhances the processing ability of machines.
To cater for customer's needs, Qiao Shen clamping kits are a great value for fastening and fixing in T-slots. Qiao Shen provides T-slot nuts, Flange nuts, Coupling nuts, Step blocks, Step clamps and studs with BS and GB standards in one set. They are made of carbon steel and provide a handy application. Additional screw jack clamping kits are available and single-item purchases are welcome.
As its ongoing commitment for profitable growth and increased prosperity for customers, Qiao Shen never stops striving toward higher levels of product development and services.
###