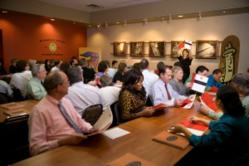 "Education is a core value at Clampitt Paper, without proper paper knowledge it becomes difficult to make your printed collateral effective." - Don Clampitt
Dallas, TX (PRWEB) May 08, 2013
Clampitt Paper, a Dallas-based Paper merchant, was started in 1941 by Max Clampitt along with his wife, Mary-Nell, and one single delivery truck. Education and paper knowledge was the core of the business and to this day is what has kept Clampitt Paper ahead of the game.
Don Clampitt, the current Chairman & CEO (Max's son), says his fathers beliefs still hold true. "Education is a core value at Clampitt Paper, without proper paper knowledge it becomes difficult to make your printed collateral effective." It is this value that has kept Clampitt's "Paper Knowledge School" alive and thriving for over 50 years.
Each class takes anywhere from 30 - 70 professionals from all areas of the graphic communications field who want to learn more about what paper can do for their business. There are seven sections including Paper Manufacturing, Paper & The Environment, Digital (a new addition this year), Paper Math, Business Papers, Uncoated Text & Cover and Coated Book & Cover Papers. This class is meant to expand our knowledge to our customers in order for them to make well-informed decisions when it comes to paper.
The next Paper School will be held August 9th, 2013.