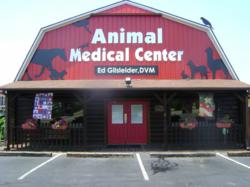 I can tell the dog owner, by using progesterone values, exactly what day to breed, and therefore they will know what day the bitch will whelp ( give birth)
Claremore, OK (PRWEB) October 15, 2012
Dr. Ed Gilsleider, announces a highly advanced method of canine artificial insemination now available for dog breeders at Animal Medical Center, Claremore, OK.
This cutting-edge process is known as Transcervical Insemination (TCI). TCI utilizes an endoscope and a high definition camera monitor to visualize the reproductive tract of the dog to be bred. This visualization allows Dr. Gilsleider to place previously-collected semen directly into the uterus through the cervix. Hence the name: transcervical. The advanced technology used in TCI is less than five years old.
The procedure is much preferred by dog breeders because it avoids general anesthesia and a surgical incision (known as surgical insemination). TCI is performed while the female dog is awake and standing, which means less time for the procedure and less discomfort for the animal.
An additional benefit is the effectiveness of the procedure. TCI is more effective than the traditional artificial insemination technique where the semen is deposited into the vaginal vault. Rate of conception has been known to be as high as 80%. This is especially good news for breeders with dogs that have previously been difficult to breed.
"I can tell the dog owner, by using progesterone values, exactly what day to breed, and therefore they will know what day the bitch will whelp ( give birth)," Dr. Gilsleider says. "This means the owner can schedule what day – not days – the dog needs to breed."
Dr. Gilsleider has received specialized, in-depth training for the endoscopic Transcervical Insemination (TCI) and is the only DVM (outside of Tulsa) offering the service in Northeastern Oklahoma. The equipment has now arrived at the Animal Medical Center and dog owners and breeders are encouraged to call for more information.
About
Dr. Gilsleider graduated from Kansas State University in 1978 with a bachelor's degree in Agriculture/Animal Science. In 1982, he received his Doctor of Veterinary Medicine degree, also from Kansas State. Dr. Gilsleider is a published author of numerous articles in lay journals, veterinary journals, and texts. He has lectured to veterinarians across America and abroad. Dr. Gilsleider has pioneered several orthopedic procedures to correct leg deformities in ratites (ostriches, emu and rhea). Since then, these techniques are used widely in many other species. He is also a member of the Society for Theriogenology, the study of animal reproduction. His practice is located in Claremore, OK, the community where he and his wife, Lisa, have lived for 30 years. The couple has four adult children, five grandchildren.
Contact:
1711 North Lynn Riggs Blvd.
Claremore, Oklahoma