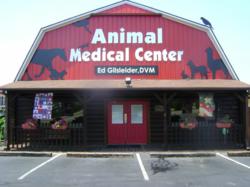 His favorite saying to his team was, "Never say never." Translated, that meant whatever came in the door, he would agree to treat.
Claremore, OK (PRWEB) August 07, 2012
At no time in his growing up years did Dr. Gilsleider ever consider any other profession than veterinary science. His life followed a pattern that led the way for his dreams to become reality.
While still a junior high student living in New Jersey, he was allowed by his parents to have part of their basement as his wildlife sanctuary. Here he had bird cages (finches and parakeets), small animal cages (gerbils and hamsters), and aquariums (one for fish; one for turtles). Later on, he transported his birds to a backyard walk-in aviary that he built himself. During the New Jersey winters, he simply covered it with plastic and added heat lamps.
In high school, the young animal lover took a part-time job at a nearby veterinary clinic. Although Dr. Gilsleider was an avid lover of sports – especially soccer and basketball – when asked by his veterinarian employer, Brian Johnson, DVM, to drop sports and focus on making straight A's, he acquiesced. "Dr. Johnson demanded perfection of me," Dr. Gilsleider said, "and later it paid off in a big way."
As an undergrad at Kansas State University, Manhattan, KS, he became involved in the school's raptor rescue program (birds of prey). Later, as a student of the K-State veterinary school he was in charge of the program. This role helped to lay the foundation for his later pioneer work with ratites (ostriches, emu and rhea).
Throughout the last 30 years, Dr. Gilsleider's Oklahoma practice has been anything but ordinary. His favorite saying to his team was, "Never say never." Translated, that meant whatever came in the door, he would agree to treat.
That adventurous statement has led to a practice that is widely diversified. Dr. Gilsleider has worked with circuses, wildlife preserves, and zoos. Add to that list ostrich and alpaca ranches, just to name a few.
Pausing at this 30-year juncture and looking back, Dr. Gilsleider says, "If I had to do it all over again, I would not have changed a thing." All those who through the years have benefited from Dr. Gilsleider's knowledge, his expertise and his caring and compassionate nature, are glad.
About
Dr. Gilsleider graduated from Kansas State University in 1978 with a bachelor's degree in Agriculture/Animal Science. In 1982, he received his Doctor of Veterinary Medicine degree, also from Kansas State. Dr. Gilsleider is a published author of numerous articles in lay journals, veterinary journals, and texts. He has lectured to veterinarians across America and abroad. Dr. Gilsleider has pioneered several orthopedic procedures to correct leg deformities in ratites (ostriches, emu and rhea). Since then, these techniques are used widely in many other species. His practice is located in Claremore, OK, the community where he and his wife, Lisa, have lived for 30 years. The couple has four adult children and one on the way.
Contact:
1711 North Lynn Riggs Blvd.
Claremore, Oklahoma