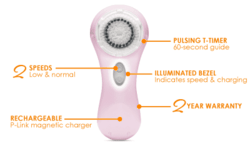 (PRWEB) June 11, 2013
Clarisonic, the leader in sonic cleansing and makers of the Clarisonic Mia is introducing an upgrade. Now, Mia provides greater flexibility and power with the introduction of its newest sibling: Mia 2.
When it comes to skincare, not everyone has the same desires, needs and regimens. Mia 2, enhanced with two speeds, a 2-year warranty and Clarisonic's patented T-Timer, allows you to customize your on-the-go skincare needs while still providing all of the sonic-cleansing benefits and compact, travel-friendly design that you know and love from the original Mia.
Developed by the lead inventor of the Sonicare® toothbrush, Clarisonic's patented sonic technology works with skin's natural elasticity to gently remove the impurities traditional cleansing methods leave behind — leaving skin softer, smoother and more beautiful.
Oscillating back and forth at a sonic frequency that produces over 300 movements per second, it gently massages away dirt and oil. In fact, Clarisonic Sonic Cleansing Brushes provide six times better cleansing than cleansing with your hands alone.
A cleanse so effective that skincare products absorb better. Clinical results have shown reduced appearance of pores, fine lines and wrinkles, oily areas dry skin patches and blemishes — and improved skin tone. It's your 60-second trip to the spa, every day.
Like the Mia, Mia 2's unique, compact pLink™ charger magnetically attaches to the handle and allows for a full 24-minutes of use per charge. The rechargeable Mia 2 is completely waterproof, making it perfect for use in the tub or shower. Brush heads are interchangeable with other Clarisonic skin-cleansing models.
The Clarisonic Mia 2 Sonic Skin Cleansing Brush is available in White, Pink, Blue, Yellow, Green, Gray, Lavender, Lucy, Wild Waves, Passion Fruit, Key Lime and Sea Breeze for a suggested retail price of $149.00 – $159.00
BeautyStat.com - the leading online beauty community for skincare reviews and makeup reviews is offering consumers a special discount of 15% off of purchase of ANY Clarisonic product at BeautyStoreDepot.com. To save 15% on All Clarisonic Orders $25.00+, click here>> BeautyStoreDepot.com. When checking out, make sure to use code 15STAT for FREE SHIPPING.
BeautyStat.com (a NYC tech startup) is an online beauty community - consisting of skincare reviews and makeup reviews and social marketing agency for the beauty industry. It has been featured in Womens Wear Daily, New York Times, Forbes Magazine, NBC and CBS News. The strength of BeautyStat.com is its captive, engaged and influential 200,000+ community, 190+ blogger network and 40 million social network reach. BeautyStat.com works with beauty brands, retailers and PR agencies to connect them to the BeautyStat community for online PR events, advertising and rich consumer insights.
BeautyStat.com was founded by beauty entrepreneur Ron Robinson. Ron is a veteran cosmetic chemist who has worked for such leading beauty companies as The Estée Lauder Companies, L'Oreal, Avon Products and Revlon Products. Ron is currently a resident beauty expert for Allure magazine.