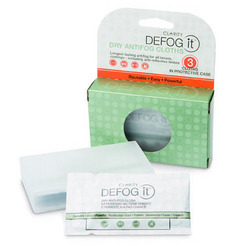 At www.defogitworks.com, trade customers have easy access for ordering Clarity Defog It, the high-performance anti-fog solution at quantity pricing.
Valley View, Ohio (Vocus) February 27, 2010
Quantity pricing is now available for high-volume customers at http://www.defogitworks.com , the new online home of Clarity Defog It anti-fog from Nanofilm. Distributors, manufacturers, retailers and high-use organizations, such as manufacturers, restaurants, municipalities and constructions firms, can now set up a distributor account at the site and all transactions can be handled quickly and easily online. Clarity Defog It anti-fog is safe and effective on safety glasses, safety goggles, faceshields and eyeglasses, even high-tech anti-reflective and super-hydrophobic lenses. Customer service is available at 1-888-ENDS-FOG.
Clarity Defog It anti-fog liquid and Clarity Defog It anti-fog towelettes have a formula used by the military around the world to prevent fogged eyewear in vision-critical situations. Just one application can help keep optics fog-free up to all day. It goes on clear so there's no haze or smearing.
Defog It is for work, helping manufacturing staff, firefighters, construction workers and operating room staff keep their safety glasses fog free. It's also for play, helping keep hunting glasses, ski goggles and paintball masks defogged. And it's for everyday, to keep glasses clear in the kitchen or on a cold day's walk.
Three reusable Clarity Defog It anti-fog cloths in a plastic carrying case are $7.49 (MSRP). Each cloth is good for 8-10 applications on eyeglasses or safety glasses, 4-5 applications on goggles or faceshields. A Clarity Defog It Care Kit is $5.99 (MSRP) and includes a 5 mL bottle of anti-fog liquid concentrate and a microfiber cloth.
The product has been rigorously tested for performance. In one test, a lens treated with Defog It was held over constant hot steam for 60 minutes without fog forming. Similar products failed in as little as 5 minutes. In another test, lenses coated with Clarity Defog It were moved between cold and hot environments 100 times without fog forming. A video demonstrates the performance of Clarity Defog It.
Clarity Defog It has earned the Seal of Approval of the 750,000-member Handyman Club of America after testing with professional-level craftsmen. It's also earned the Seal of Approval of the 760,000-member North American Hunting Club, as well as positive reviews from webBikeWorld and other sources. Consumer comments include:

"Usually when I use a dust mask I get extensive fogging on my goggles. After using Clarity Defog It Dry Towelettes the goggles did not fog up at all."
"I used Defog It on my glasses in my forge shop and never had any of the normal fogging of lenses that I normally have. It is easy to use."
"Since I wear a face mask when working on my lathe, I used to fog my glasses. With this product I have had no problems with fogging."
"This product works great. I've put it on my sunglasses and shooting goggles that always used to fog up and now they don't -- not even on a foggy river."
"At http://www.defogitworks.com , trade customers have easy access for ordering Clarity Defog It, the high-performance anti-fog solution at quantity pricing," says John Swett, Nanofilm Vice President of Sales and Marketing.
Visitors to the site can get detailed information on the product, watch performance videos and order product. Nanofilm is also creating a resource library at http://www.defogitworks.com for safety information and case histories to help individuals and organizations understand and promote the importance of fog-free vision in work, play and everyday.
Nanofilm, founded in 1985, is a global optical leader in lens care and coatings. Millions of people around the world use Nanofilm products, including Clarity Clean It™, Clarity Defog It™ and other lens care products, as well as nanotechnology-enabled coatings. More information is available at http://www.nanofilmproducts.com .
###