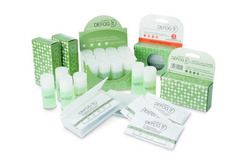 Valley View, Ohio (Vocus) December 4, 2009
Deer hunting season is in full swing and hunters are taking to the woods with a new safety accessory: Clarity Defog It™ anti-fog liquid and towelettes for shooting glasses, eyeglasses and scopes.
The early morning chill or changeable temperatures throughout the day can fog up shooting glasses or regular eyewear. Even the lens on a spotting scope is susceptible. The result? A perfect shot can become a foggy blur. Obscured vision can also be a serious safety hazard in the woods.
Clarity Defog It anti-fog liquid and Clarity Defog It anti-fog towelettes have a formula used by the military around the world in vision-critical situations. Just one application can keep optics fog-free up to all day. Clarity Defog It anti-fog is safe and effective on all eyeglass lenses, goggles and optics, even today's high-tech anti-reflective and super-hydrophobic lenses. See a video demonstration at http://www.nanofilmproducts.com/video/defogit.htm
In tough lab tests, Defog It outperformed five leading anti-fog brands for eyeglasses, sunglasses, goggles and other sports optics. In one test, lenses treated with six different anti-fog treatments were held over constant hot steam. Clarity Defog It kept the lens fog-free for a full 60 minutes. The others failed in as little as 5 minutes.
In another test to simulate the all-day temperature changes from the chair lift to the chalet, treated lenses were repeatedly moved between a 30o freezer and a 72o room. Fog formed almost immediately with competitive products, but Clarity Defog It stayed clear for 100 cycles of heat and cold.
Clarity Defog It is available at Wal-Mart Vision Centers, Amazon (http://www.amazon.com, search "Defog It") and other retailers. Three reusable towelettes in a plastic carrying case sell for $7.49 (MSRP). A half-ounce of the all-in-one cleaner and anti-fog liquid is $4.99 (MSRP). More information is available at http://www.nanofilmproducts.com or by calling 1-888-ENDS-FOG.
Nanofilm, founded in 1985, is a global optical leader in lens care and coatings. Millions of people around the world use Nanofilm products, including Clarity Clean It™, Clarity Defog It™ and other lens care products, as well as nanotechnology-enabled coatings. More information is available at http://www.nanofilmproducts.com.
Contact: Lynn Lilly
216-702-5167
###