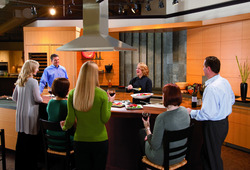 We believe in the power of good, whole food and in the talents of the culinary industry to help those in need.
Milford, MA (PRWEB) September 17, 2010
Clarke, New England's exclusive distributor of Sub-Zero and Wolf appliances, in conjunction with the cooking schools at The Clarke Culinary Centers outside Boston and in Fairfield County, CT, will host two dynamic celebrity chef cooking events to raise funds to help eliminate local hunger during the 2010 autumn harvest months.
The Ultimate SoNo Chef Shoot Out will take place at The Clarke Culinary Center in South Norwalk, CT on Thursday, October 7, 6-8PM to pit the culinary talents of Matt Storch, head chef of SoNo's Match restaurant, against those of Master Chocolatier Fritz Knipschildt, founder of Café Chocopologie in South Norwalk, CT. The iron-chef-style competition will be enjoyed by just 40 guests and require the chefs to create three different dishes from one ingredient. Judges and guests will taste the recipes. Tickets are $125 and will benefit The Food Bank of Lower Fairfield County. A panel of three celebrity judges, as well as ballots from the audience, will decide the winner in this fast-paced competition. Celebrity judges will include Chef Prasad Chirnomula, owner of Thali, Dina Cheney, author of Tasting Club and columnist for Everyday with Rachael Ray, and Maria McBride Mellinger, author and contributor to Condé Nast Brides.
On Thursday, November 11, 6:30-9:30, Clarke's Massachusetts Showroom will host Share Our Strength: A Taste of the Holidays. This event, designed to raise funds to help assure that no child in America goes hungry, will showcase the talents of eight chefs from Boston, Worcester and Metrowest, including Andy Husbands of Boston's Tremont 647. Tickets are $85 and include tasting new holiday dishes and wines throughout the evening.
"We are so thrilled to be involved in these events," said Tom Clarke, CEO of the award-winning Sub-Zero and Wolf showrooms. "We believe in the power of good, whole food and in the talents of the culinary industry to help those in need. Our partnership with innovative chefs in conjunction with local and national organizations helping to eliminate hunger in our country, is something that the Clarke team is passionate about."
"We're looking forward to quite a showdown at Clarke in South Norwalk," said Clarke general manager Sean Clarke. "Matt Storch and Fritz Knipschildt are two of the most colorful, dynamic and talented chefs in New England. They are great friends and fierce competitors. I have no doubt that they will use all of their tricks to impress the judges and win the Chef Shoot Out title."
Brenda Linden of Share Our Strength in Boston said, "We're pleased to be hosting our first event at Clarke. When I saw the Massachusetts showroom, I knew we had to partner on an event here. We've created the Taste of the Holidays format to really give the public something special to support going into this holiday season. This is a win-win event…we showcase the talents of the very best chefs in the region while giving 100% of the proceeds to our 'No Kid Hungry' goal."
For more information about these events or Clarke Culinary Center classes, please visit http://www.clarkeculinarycenter.com
About Clarke
This award-winning distributor of appliances from Sub-Zero, Wolf and Asko, provides expansive showroom resource centers in Milford, MA and South Norwalk, CT, where homeowners can learn about and experience these appliances in dramatic kitchen vignettes, without any pressure to purchase. Clarke also offers The Clarke Culinary Center inside both of their showrooms to offer cooking classes from Clarke corporate chefs and local celebrity chefs. In addition, the company launched Clarke Customer Care, a dedicated repair service for their brands, that has earned them "Best in the US" satisfaction survey results. For more information, visit http://www.clarkecorp.com.
###