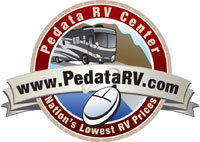 Phoenix, AZ (Vocus) April 16, 2010
Pedata RV Center sees a notable increase in interest and resulting sales of Class C motorhomes. This increase reflects the same increase noted on an industry-wide level by the Recreational Vehicle Industry Association (RVIA). RVIA statistics for 2009 indicated clearly that the Class C experienced an increase in sales towards the end of 2009.
Gerard Pedata of Pedata RV Center responded, "The Class C is a classic choice for those looking for something they can just get in and go. Many Class C RVers take advantage of the opportunity presented to hitch a day to day vehicle to the back of the RV. This enables them to set up camp and then zip around to see the sites without pulling up stakes."
The increases noted by the RVIA in the 2009 shipment totals took place in November and December of 2009 when RV Class C shipment totals exceeded those of the preceding year. Also noted in the 2009 RVIA report was that retail volume exceeded wholesale shipments.
Other notable statistics provided by RVIA's 2009 report included:

Class A retail sales were nearly double the level of wholesale shipments.
Class C retail sales exceeded shipments by 28.5%.
Pedata RV Center provides access to their full inventory online for consumer convenience. The wide selection of RVs includes fifth wheels, travel trailers, Class A, Class C, etc. Pedata RV Center's low overhead cost through significant online inventory and sales management means low operating costs that enable the company to provide low prices even during times of decreased sales.
The Recreational Vehicle Industry Association (RVIA) is a national trade association representing the RV industry; specifically RV manufacturers and their suppliers. 98% of all recreational vehicles built in the nation are built by RVIA members. The association's headquarters are located in Washington, D.C.
For more information on Pedata RV Center, or current trends in the RV industry:
Contact: Gerard Pedata
Company: Pedata RV Center
http://www.PedataRVCenter.com
Phone: 1-888-545-8314 or 520-807-0900
# # #