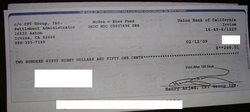 ...shocked at the amount. I had no idea it would be for so much. I received $268.51 for just sending in the claim form? That's fantastic! Thanks for telling me about the settlement!
Phoenix, Ariz. (PRWEB) February 24, 2009
As it turns out, there is a legitimate way to get free money on the Internet and many missed out on the first confirmed payout. Jill Shockley of Plainsboro, New Jersey, called Top Class Actions on February 17, 2009, to verify that the check she received in a class action lawsuit settlement she found on the free Top Class Actions website was valid. Jill stated she received the check and was "...shocked at the amount. I had no idea it would be for so much. I received $268.51 for just sending in the claim form? That's fantastic! Thanks for telling me about the settlement!"
Jill was ecstatic because in this particular class action lawsuit settlement, the amount of the payout depended upon how many claims were received so she had no idea how much she'd get until the check arrived. Almost everyone who bought an item from Ross using a credit or debit card qualified for the McGee Vs. Ross Stores Settlement.
In this economy, most people could use some extra money and Top Class Actions is happy to act as the conduit connecting consumers to class action lawsuit settlement awards. Top Class Actions is based out of Phoenix, Arizona and have been posting class action lawsuit settlements since it launched quietly in the middle of 2008. The website is completely free to access for consumers and breaks down class action lawsuit settlements in an easy to understand way. Top Class Actions tends to favor those class action lawsuit settlements which require no proof of purchase to make a claim. Consumer Reports' Consumerist and Karen Datko of MSN Money's Smart Spending Blog recognized Top Class Actions (and the settlements posted) multiple times, which is how many have stumbled across it. On Top Class Actions consumers see information about both Open (open for claims) and Closed (claims no longer accepted) settlements. In addition Top Class Actions allows consumers to submit complaints about products, services or anything else they want reviewed by an attorney for free so a new lawsuit can be started if applicable.
Scott Hardy, President of Top Class Actions, when asked about what kind of affect his company had on the number of claimants in the McGee Vs. Ross Stores settlement, stated, "Top Class Actions has grown into the premiere website for consumers looking to participate in class action lawsuit settlements. This settlement had more than 60,000 views on Top Class Actions before it closed. Of those, more than 4,000 people went to the Settlement Administrator website to print out the claim form which helped result in 2,609 people getting paid."
J. Mark Moore of Spiro Moss Barnes LLP in Los Angeles, California, one of the lead attorneys in the McGee Vs. Ross Stores Settlement, had this to say about the number of claimants: "When he approved the settlement, Judge Breyer commented that we had achieved an extraordinary result for the class. We share that view, and we also believe that having the settlement listed at Top Class Actions positively impacted the number of claims that were submitted, allowing more people to share in this very fine settlement."
Mr. Moore estimated that the number of people who could make a claim was in the high hundreds of thousands. Out of those, only 2,609 made a claim and received a check. That's why class action lawsuit settlements typically result in less than 10% of eligible people making their claim.
Top Class Actions hopes to help improve this number. In fact, at this moment, consumers can submit claims for $78 in the Closson Vs. Bank of America settlement, $35 - $90 in the Larson Vs. Sprint Nextel Settlement and $1,000 or more in the Rose Vs. Nationwide Insurance settlement. Top Class Actions encourages consumers to continue to submit claims for new settlements on a regular basis so they may receive a steady stream of checks every few months. Viewers can also sign up for a free bi-weekly newsletter to make sure they don't miss out on any settlements.
About Top Class Actions:
Founded in 2008, Top Class Actions has quickly become the leader in online class action lawsuit settlement notifications. Listing a class action lawsuit settlement at Top Class Actions gets it in fronts of thousands of consumers actively looking to participate in class action lawsuits. Top Class Actions also works with attorneys to identify participants in new class action lawsuits. Attorneys in the Top Class Actions Attorney Network are constantly reviewing issues submitted by viewers via the online consumer complaint form to help make sure that people of all means receive legal representation to assist with their consumer complaints. Admission into the Attorney Network is free for those in the legal profession.
Top Class Actions and the Top Class Actions logo are trademarks or registered trademarks of Top Class Actions LLC in the United States and other countries.
###