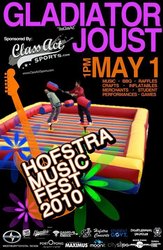 "Our awareness goes above and beyond advertising Class Act Sports; we want to lead by example and raise awareness on issues that are taking place within our own backyard,"
Long Island, NY (PRWEB) May 1, 2010
ClassActSports.com in support of its first major fundraiser has joined forces with Hofstra University and Campus Socialite Media as a sponsor of Hofstra Music Fest 2010. The 4th Annual Music Fest will be on Saturday, May 1st from 1 p.m. - 7 p.m. featuring artists, such as Iyaz, Streetlight Manifesto, Ghostface Killah, Kevin Devine, Bad Rabbits, and many more at Hofstra University's Intramural Field. The Music Fest will raise funds for Road Recovery, a local organization dedicated to helping young people battle addiction and other adversities through music, education, and support.
Class Act Sports, LLC, a Long Island based start-up, is a multi-functional company designed to be the ultimate headquarters for sports fans and fantasy fanatics. ClassActSports.com is unlike any other sports site as it combines all aspects of sports into one easy-to-navigate website. Class Act Sports (C.A.S.) is holding its name accountable in being a "Class Act" as a socially responsible corporation. By joining forces with Hofstra University and sponsoring the university's annual Music Fest, Class Act Sports wants to continue taking the necessary steps to become a community business leader. "Our awareness goes above and beyond advertising Class Act Sports; we want to lead by example and raise awareness on issues that are taking place within our own backyard," states Founder Jared Ginsberg.
Class Act Sports believes in supporting causes that are a "Class Act" in advocating for those who struggle toward a better tomorrow. Class Act Sports will be sponsoring the Gladiator Joust and meeting with contestants to interview them and reward participants with items such as Team Schedule Magnets of their favorite sports teams, t-shirts, stress balls, and much more!
 
Road Recovery provides hands-on mentorship training, educational/performance workshops, peer-support networking, and "all access" to real-life opportunities by collaborating with young people to create and present live-concert events. Road Recovery partners with neighborhood support organizations, certified licensed mental health professionals, treatment facilities, schools, youth and others to help young adults in danger of returning to active addiction and other self-destructive behaviors.
About ClassActSports.com:   Class Act Sports gives all the latest news and information on MLB, NFL, NBA, NHL, Golf, Boxing, Soccer, and collegiate athletics. It offers free fantasy games for fantasy sports players, breaking news updates on player news and expert opinions on who to start and who to sit. With a customizable fan profile, any sports fan is able to chat live with friends and family, as well as post pictures and videos of their favorite sports clips. Class Act Sports aims to be the leader in the way sports are covered.
For more information, visit http://www.ClassActSports.com
# # #