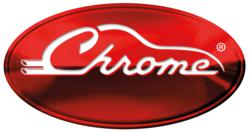 SPRINGFIELD, MO (PRWEB) February 06, 2013
An iPhone application that has been downloaded by hundreds of thousands of classic car and truck enthusiasts now boasts more impressive features than ever before. Offering a comprehensive price guide, a car show database and stunning photos, the CHROME iPhone App, from American National Property And Casualty Company (ANPAC), made its debut in October 2009. It was the first app of its kind to include a price guide for classic and antique automobiles.
Committed to keeping the app fresh and innovative, the information technology department at ANPAC recently unveiled the following new features:

The ability to save photos and notes about favorite cars in the new "My Cars" screen.
The option to share photos of favorite cars via Facebook and email.
Instant access to detailed information about the cars participating in ANPAC-sponsored car shows.
Photos of several new featured cars on the app's home screen.
Faster search results from the integrated car show directory.
Compatibility with iOS 6 and iOS 5.
Since its debut, the free app has offered car buffs these standout features:
Price guide data for more than 40,000 models of vehicles from Old Cars Price Guide, published by F+W Media. Car values are available for models manufactured from the early 1900s to the 1990s, and the pricing is based on six levels of current condition.
A road trip journal which allows users to log each of their stops using GPS technology and add notes and photographs about their experience.
Car show information that is searchable by name and location. The app has the capability to map all the shows nearest to the user's current location, provide directions to a specific show or send an email with information about a particular event.
Images of classic and specialty automobiles from events across the country. These images are searchable by make, model and other search options.
Slideshow images of show-quality hot rods and classic vehicles owned by CHROME clients and featured in the ANPAC's annual CHROME calendar.
CHROME classic car insurance is just one of several specialty insurance products offered by ANPAC. It was developed more than 13 years ago by ANPAC team members – who also happened to be classic car enthusiasts – in response to a lack of insurance options that addressed the unique needs of specialty automobiles.
CHROME is an acronym that stands for the different types of vehicles that the product was designed to cover – classic, hot rod, replica, original, modified and exotic. Special CHROME policy features include agreed value; annual mileage up to 10,000 miles (with an unlimited mileage option in many states); roadside service and towing options; choice of repair facilities; spare parts coverage; discounts for collectors who insure multiple specialty vehicles; endorsements for vehicles under construction; and personalized service through local agents.
American National Property And Casualty Company is headquartered in Springfield, Missouri. It is a subsidiary of American National Insurance Company of Galveston, Texas. American National agents offer a combination of life insurance; annuities; property and casualty insurance for personal lines, agri-business and targeted commercial exposures; and other services. Agents serve individuals, families and business owners. Go to http://www.anpac.com for more information.
Apple and iPhone are registered trademarks and App Store is a service mark of Apple, Inc. Products and services may not be available in all states and eligibility requirements will apply. Personal and commercial products and services are made available through American National Multiple Line Exclusive Agents and may be underwritten in American National Property And Casualty Company (ANPAC®), Springfield, Missouri or one of its subsidiaries: American National General Insurance Company; Pacific Property and Casualty Company (California); ANPAC Louisiana Insurance Company (Louisiana); American National Lloyds Insurance Company (Texas); American National County Mutual Insurance Company (serviced by ANPAC). Life insurance products are issued through American National Insurance Company, Galveston, Texas.