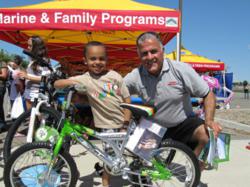 Vista, California (PRWEB) January 13, 2012
It's always better to give than to receive and Classic Chariots knows that all too well. In 2011 Classic Chariots sponsored several events that helped their community, our military and military families.
Camp Pendleton is one of the largest military bases in California and has a huge population of both military and their families. Picnics and fairs are held on base all throughout the year and Classic Chariots has sponsored many of them. On May 2nd, 2011 Classic Chariots gave away several bikes in a raffle as part of the Camp Pendleton "Kids First Fair". Later in the summer Classic Chariots was a sponsor for the summers SMP BBQ's, a program designed to keep younger marines out of trouble while they're here in sunny California. Near the end of summer Classic Chariots sponsored Camp Pendleton's "Endless Summer" event, a day full of music, games and beach fun. Classic Chariots gave away T-Shirts and raffled off iPods and gift cards. In October Classic Chariots was a sponsor for the 2011 "Miramar Air Show". In case you haven't heard the Air Show is where you can see military aircraft and artillery up close, you can even climb inside a tank and take a look around. The biggest event was the live demonstrations with viewing right on the airfield. Admission is free! On June 8th, 2011 Classic Chariots was a sponsor for a tee at the Oceanside Chamber of Commerce's 2011 "Golf with a Hero" event. This tournament was for veterans and active service, with professional skill and amateurs competed in a full tournament.
In the fall Classic Chariots sponsored more Camp Pendleton events starting with the Harvest Festival. This was another one of the Camp Pendleton's BBQ events with free games and prizes for military families. Later that month, Classic Chariots took part in the 2011 "Haunted Harvest" at the San Onofre Community Center. This event featured a full blown haunted house with two paths, one for children and one for teens and adults, as well as plenty of candy!
Later, in the winter, Classic Chariots held its first annual Christmas Carnival right on the car lot! Hundreds showed up for this completely free event that included food, drinks, games and prizes, a dunk tank and a bouncy castle. Inside you could get pictures with Santa Clause and have them printed out right there! This event went from 11am until 4pm and ended with a raffle for great prizes such as a Wii, a flat screen TV and several gift cards to Starbucks
On December 9th, 2011 Classic Chariots was a sponsor for the Camp Pendleton 2011 "Trees for Troops" event. This event was created to give away free Christmas trees to military personnel and had families showing up as early as midnight the night before to wait for their tree. The whole morning was filled with music and fun, with Classic Chariots arrived early in the morning to give out cookies and prizes to the people patiently waiting. The event also included given out through a raffle and a work shop where children could play and build their own toys. At 10am a FedEx truck showed up and unloaded a wide variety of Christmas trees to meet the different needs of our troops. The trees to be given away ranged from small trees nearly four foot high to massive eight foot trees. Despite the incredible number of people attending the event went smoothly with little traffic.
In all, Classic Chariots sponsored over 15 events in 2011 in an effort to give back to the community and looks forward to doing many more in 2012. If you would like to learn more about Classic Chariots, feel free to browse the events section of our website Click Here
And to find out what upcoming events we will be involved with Follow Our Facebook Fan Page
###