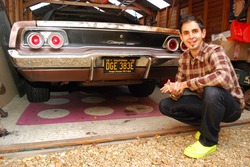 I don't always go for the cars most other people lust over
(PRWeb UK) October 25, 2009
Anyone who's followed Jonny Smith, the cheery motoring journalist familiar from Channel Five's Fifth Gear programme, will know his passion for the quirky motor. For Jonny, cars aren't simply to race or to speed, but to cherish for their individuality. Put him in a car of real character and a delicious smile spreads across his face, you can't mistake it.
He bought his first classic - a 1967 VW Beetle - before he was even old enough to drive, way back in 1995. It was his first love and he still has it, dusty but intact, in a corner of his garage, and regularly promises himself that he'll restore it next year. In the years since, Jonny has almost lost count of all the classics he's owned since. He calls himself 'the car pervert', with good reason:
"I don't always go for the cars most other people lust over," he says. "I love the oddball and the weird, the ones with real character. Every old car tells a story. I'm perverse about it."
When it comes to valuing and insuring his unusual cars, Jonny turns to a company with huge experience in insuring the oddball and the weird - Adrian Flux Insurance Services.
"'I've insured pretty much all of my motors with Flux," he explains. "I've been with them for ten years, and what I like is when I call up to get a quote on something new, I never have to explain what it is."
''You can spend all morning on the phone to other brokers and in the end it can come to nothing, because they don't know the cars or how much they are worth. But Flux just seems to know. When I told them what the Dodge was worth, and wanted an agreed value, they didn't flinch. And the fact that it was left-hand drive with drum brakes and 330bhp seemed irrelevant to them, which seems the opposite to most brokers in my experience.''
Perhaps most of all, Jonny's drawn to American muscle cars. ''I just love 'em. My first was a 5-litre Oldsmobile Cutlass ten years ago, and I'm in 4-years down the line restoring a 1964 Chevy Impala SS into a traditional lowrider.
''It's not always the performance of the big Yanks, '' he says. ''Rather, it's the style and the attention to detail. Even something like a petrol tank filler cap is designed to impress when you fill up at the gas station. Those cars were built to make you feel good about yourself.''
His most recent acquisition is a 1968 Dodge Charger, the American muscle car that's been an iconic part of movie and TV car-chase scenes from Bullitt to The Dukes of Hazzard.
"I'd been hoping to find a late 1960s Charger for some time, but I couldn't locate the right one over here," he says. "I wanted a 'numbers matching' model, with all the original components."
Jonny eventually found one on the web last year - but it was in California. ''It looked a good, solid car, a rare 4-speed manual version with a 383 cubic inch (6.3-litre) engine, but I was still taking a risk, buying it online,'' he recalls.
Yet he says if you know what you are looking for you can be confident what you're going to get, and this one was clearly a real 'driver', in excellent condition under the hood, and had only 30,000 miles on the clock. When Jonny received a hoard of digital pics and arranged shipping, he knew he had something different.
''It's really weathered on the outside, and it even has bullet holes in the trunk lid. It looked like they'd been using it as a moonshine car. That only added to its appeal. I've spent nine months and fair amount of cash faithfully de-rotting and restoring the back end bodywork to factory spec. It still retains the patina charm I wanted, however.
"But when I tell people what it's worth - and that's a lot - they say 'are you trying to pull a fast one? ''
That high value was significant when the car arrived in the UK last year and Jonny needed road insurance cover as soon as it arrived. Flux insured it without a pause, agreeing his valuation immediately.
While Jonny makes plans to restore the Beetle next year, he insures it as 'laid up' through Flux. ''I've also got cover on the Chevy Impala as a 'restoration in progress' with them - primarily because it's had about £20,000 spent on it so far but it still isn't on the road and registered!''
Gerry Bucke, commercial director of Adrian Flux, says that their experience comes from Flux's own origins as a specialist broker in another area - insurance for disabled drivers: ''When the company was founded in the 1970s, initially to help disabled drivers find insurance, it was one of the few that would insure imported American cars because - almost universally with automatic gears - they were easier for disabled people to drive than most European cars. And because disabled drivers often had specially modified motors, our experience with the big imported cars, the modifieds, the kit cars and all the other unusual ones comes directly from that. And it's grown over the years.''
Jonny says that one new development - emailed documents - has been a huge help. ''I travel a lot, and can check in remotely from a hotel room and quickly fix up a policy.''
Of course, it helps that Jonny Smith has a near-immaculate insurance record. ''In ten years with Flux on all those cars I've had only one claim, and that was when the bin men reversed into me,'' he says. ''It was settled immediately without fuss.''
Adrian Flux aims to offer cheaper car insurance and has a huge range of policies for the motoring enthusiast. For details contact the Adrian Flux quote line on 0800 081 8989, email the company at quotes (at) adrianflux.co (dot) uk or see the Flux homepage on http://www.adrianflux.co.uk
Copy ends
Jonny Smith.doc - Oct-09
PRESS ENQUIRIES:
Toni Turner or Alison Haynes at The Publicity Works
Tel: 01263 761000
Email: flux (at) publicityworks (dot) biz
Gerry Bucke of Adrian Flux Insurance Services: 0800 081 8989
###