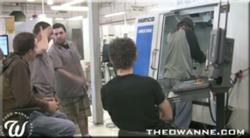 May our products help you access and express your deepest brilliance & inspiration. May your brilliance & inspiration, in turn, spread to the rest of the world! - Theo Wanne
Bellingham, WA (PRWEB) July 10, 2011
Theo Wanne Classic Mouthpieces' new 5-Axis machine is the absolute state-of-the-art in machining technology.
The company has already begun leveraging their new machine to make their world famous GAIA Soprano saxophone mouthpieces, Enlightened Ligatures, as well as take on new OEM mouthpiece business.
Says Tom Wanne, CEO, "A wonderful aspect about growing fast, is having to expand our capacity and welcome new high-tech machines to our quiver.
And, a huge part of success is loading your bus with the smartest and brightest people in the business. I feel blessed to have a collection of engineers and machinists that can leverage all of our machining capabilities to the hilt. My hats are off to our world-class machinists, programmers and engineers."
Theo Wanne Classic Mouthpieces is legendary for revolutionary products that inspire musicians.
###