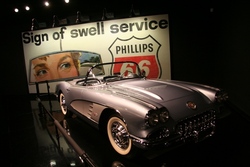 Seeing these classic cars in a landscape that epitomizes the American west resonates with people – they both represent freedom. The Gateway Canyons Classic Auto Fest is the vehicle that brings it all together
Gateway, CO (Vocus) April 16, 2010
Driving along Colorado Scenic and Historic Byway 141 to Gateway Canyons in Gateway, Colorado is a fitting route to a festival that celebrates the joy of motorized travel. Over 250 classic and antique automobiles will be on exhibit for car aficionados and the general public to savor at the fifth annual Gateway Canyons Classic Auto Fest, on May 8.
The show will feature 23 Best of Class categories with awards in each category. Classic and antique cars from the early 1900s through the 1970s will be on display as will American classics that include Camaros, Corvettes and Mustangs. Not to be missed are the hot rods, muscle cars and pick-up trucks that round out the exhibition. Awards will also be given for Best of Show, Best of Marque, Gateway Auto Museum Choice, Partner's Choice and People's Choice.
"Seeing these classic cars in a landscape that epitomizes the American west resonates with people – they both represent freedom. The Gateway Canyons Classic Auto Fest is the vehicle that brings it all together," said Tammy Anderson, Director of Lodging and Guest Experience.
The Gateway Classic Auto Fest coincides with the anniversary of the Gateway Colorado Auto Museum, a premier repository for some of the nation's most celebrated vehicles. It is the personal collection of John Hendricks, founder of the Discovery Channel. The museum houses 45 of the most prized cars in the country including the 1954 Oldsmobile F-88 concept car. The collection is arranged in a timeline that captures 100 years of automotive history beginning with the 1906 Cadillac Model H Coupe and ends with the 2008 Tesla Roadster.
The Gateway Canyons Auto Fest is a benefit for the Partners Program. A portion of the proceeds will stay in Western Colorado to provide services to youth who face challenges in their lives. The Partners Program is devoted to helping young people overcome issues such as criminal behavior, substance abuse, and unemployment. The goal is to provide opportunities for youth to have positive role models in their lives and to learn from their mistakes. For more about the Partner's Program, visit http://www.mesapartners.org.
Tickets to Gateway Canyons Classic Auto Fest include entry to the festival grounds, admission to the Gateway Colorado Auto Museum, and a charitable donation to the Partner's Program. Visitors have the chance to win a lottery, drawings and door prizes as well as enjoy the opening ceremony. Food and craft vendors, auto services and music will add to the festive atmosphere. For more information about the Gateway Canyon Classic Auto Fest on May 8, please visit http://www.gatewayautomuseum.com or contact Denise Wall at 970.931.2655.
Visitors to the Gateway Canyons Classic Auto Fest can stay on site at Gateway Canyons. The Dolores River Inn and the Kiva Lodge offer accommodations that range from standard rooms to premium suites. There is a large outdoor pool and clubhouse courtyard, wireless internet access and several on-site dining choices. For lodging information, please visit http://www.gatewaycanyons.com or telephone 866-671-4733 or 970-931-2458.
About Gateway Canyons
Gateway Canyons is a premier resort destination with 54 rooms, state-of-the-art meeting facilities, full amenities, breathtaking scenery, a range of outdoor activities, and the Gateway Colorado Auto Museum. It is the home of Curiosity Retreats, a place where high quality learning opportunities and the surrounding natural beauty combine to create a one-of-a-kind destination experience.
Located one hour southwest of Grand Junction on Colorado Scenic and Historic Byway 141, this destination is easily accessible. Frequent flights are available from Denver, Dallas, Phoenix and Salt Lake City at the full service Grand Junction Regional Airport. Private planes may arrive in Grand Junction or Montrose. Rental cars and shuttles are available. For more information, call 866.671.4733 or visit http://www.gatewaycanyons.com/press-room for an online press kit, press releases, and downloadable photographs.
Media Contacts:
Tammy Anderson, Director of Lodging and Guest Experience
Gateway Canyons
970.931.2647
tammy(dot)anderson(at)gatewaycanyons(dot)com
or
Vicky Nash, Public Relations Representative
Resort Trends, Inc. – Tourism & Resort Communications
970.948.4923
Vicky(at)ResortTrends(dot)com
###