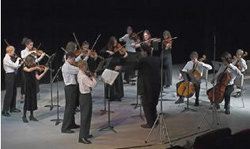 That they are playing it with such grace and beauty is inspiring.
Wake Forest, NC (Vocus) December 3, 2008
TheClassicalStation.org announces today that its weekly program "Preview!" will feature an interview with Richard Luby of the Mallarme Youth Chamber Orchestra by host Deana Vassar. Luby, Professor of Music (violin), UNC-Chapel Hill, coaches chamber music in MYCO. The interview can be heard during the station's Sunday, December 7, 2008 program that airs from 6-9 p.m.
Fifty kids will take on some of the toughest music in the classical repertory on Sunday, December 14 at 3 p.m. in UNC's Hill Hall Auditorium. Playing violin, viola, cello and piano, the young musicians are members of the Mallarmé Youth Chamber Orchestra's (MYCO). The December concert will include orchestral and chamber pieces by Beethoven, Haydn, Mozart, Bach, Verdi, Dvorak, Schubert, Brahms, Shostakovich and Respighi. The concert is open to the public and is free.
In the contest between young musicians and the old masters, the professional money is on the kids.
"These youngsters are playing some of the most challenging music ever written," says Vassar. "That they are playing it with such grace and beauty is inspiring."
"Preview!" is a weekly feature that airs every Sunday evening from 6-9 p.m. ET and presents the latest in classical recordings and upcoming classical events. WCPE's live broadcast of Great Classical Music, 24 Hours A Day can be accessed around the globe in several ways: on-line streaming in multiple formats, including IPv6; local cable television systems; and traditional radio broadcasting. A complete list of the ways WCPE is available with instructions for cable and satellite reception can be found at theclassicalstation.org/listen.shtml.
About WCPE:
With a 30-year history, WCPE is a non-commercial, 100 percent listener-supported, independent station dedicated to excellence in Great Classical Music, 24 Hours A Day. Community-minded business underwriters and foundations are among the 150,000 listeners in the North Carolina broadcast area. General Manager Deborah S. Proctor's leadership has enabled the WCPE community to include national and worldwide listeners. Other radio stations and cable television systems can rebroadcast Great Classical Music, 24 Hours A Day. WCPE is one of the first public broadcasters to stream on the Internet. WCPE is heard worldwide on the Internet in multiple formats, including the next generation IPv6. Because WCPE receives no tax-derived support, the station conducts two on-air fundraising campaigns and two major mail-out campaigns per year to raise needed operating funds. Quarter Notes, the WCPE Program Guide, is published four times a year as a means to enhance appreciation and understanding of classical music. It is distributed to station supporters and is also available online at TheClassicalStation.org/guide. For more information, visit TheClassicalStation.org or call 1-800-556-5178.
About Mallarme Youth Chamber Orchestra:
MYCO is a non-profit organization, founded in 2005 by Yoram Youngerman, viola professor, Academy of Music, Jerusalem. MYCO practices and performs on the campus of UNC, Chapel Hill. MYCO students work closely with UNC professors, and members of Duke's Ciompi Quartet. MYCO's 50 passionate musicians are 11 to 18. For additional information please visit http://www.mycomusic.org.
Media Contact:
Curtis Brothers
919.556.5178
###