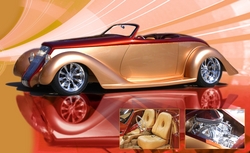 "Both ANPAC and the NSRA are committed to making the sport safer and more enjoyable for specialty car enthusiasts," said Ostergren.
Springfield, MO (PRWEB) February 16, 2010
CHROME® specialty car insurance from ANPAC® becomes an official product of the National Street Rod Association®, acquiring vintage and classic-car clients from former NSRA insurance administrator, Sneed Insurance.
After more than 40 years serving vintage and classic-car owners' insurance needs and 37 years in partnership with the NSRA, Sneed, Robinson & Gerber, now known as Sneed Insurance, endorses American National Property And Casualty Companies (ANPAC) as the company to best serve the needs of its longtime classic-car customers.
ANPAC will provide service and offer coverage to former Sneed collectible and classic-car clients through CHROME specialty car insurance.
CHROME is one of several specialty insurance products offered by ANPAC. ANPAC has been insuring classic cars since the 1980's, and developed CHROME through the initiative of employees who are also classic-car enthusiasts. CHROME is an acronym which stands for classic (including modern classics), hot rod, replica, original, modified, and exotic vehicles.
"We're confident that the friends and neighbors we've worked with over the years through the specialty auto community will be well cared for by the folks at ANPAC," said Trip Sneed, CEO of Sneed Insurance. "We feel that ANPAC provides the finest service and the best products in the marketplace."
As ANPAC takes the wheel from Sneed Insurance, a new arrangement with the NSRA introduces ANPAC's CHROME insurance to the NSRA's 50,000 members and gives CHROME entrée to the world's largest automotive participant event, the NSRA Street Rod Nationals Plus. This signature event, together with ten divisional NSRA events, attracted more than 32,000 specialty vehicles, 100,000 car owners, and 200,000 spectators in 2009.
"American National Property And Casualty Companies, through CHROME insurance, are proud to associate with the NSRA," said Gregory V. Ostergren, ANPAC chairman, president and CEO.
"Both organizations appreciate the passion and dedication that go into specialty automotive collecting and sports. We are also proud to carry on the great tradition of providing quality service, broad coverage, and affordable rates that Sneed Insurance for years has delivered to its classic-car clients," said Ostergren.
Ostergren was also the 2009 Insurance Institute for Highway Safety chairman, and is currently a board member for the safety institute.
"Both ANPAC and the NSRA are committed to making the sport safer and more enjoyable for specialty car enthusiasts," said Ostergren.
Self-proclaimed as the association that has "fun with cars," the NSRA also stresses the importance of safety to its members, touting a nationwide, voluntary vehicle safety inspection program.
"The NSRA has long understood that the most important part of having fun with your treasured car is to be safe, and to ensure that the investment you've made in your vehicle is protected," said Frank Salerno, NSRA safety director.
The association's relationship with CHROME succeeds a 37-year exclusive partnership with Memphis-based Sneed, which has been the NSRA's sole insurance administrator since 1973.
Sneed will soon begin to transfer vintage, classic, and specialty auto clients to ANPAC. Sneed will continue its Midsouth operation, providing service and administering coverage for its clients that are not part of the collectible car program.
"ANPAC understands the unique needs of vintage and classic-car owners, and serves those needs through an insurance program customized for car buffs by car buffs," said Ostergren.
Special CHROME policy features include: agreed value, annual mileage up to 10,000 miles, roadside service and towing options, choice of repair facilities, spare parts coverage, discounts for collectors who insure multiple specialty vehicles, and the option to purchase coverage for vehicles under construction.
Service is provided through local agents who offer a full line of insurance and related services; a dedicated staff for the specialty car market; and a claims department trained to respond to the special repair, painting, towing, and assistance needs of CHROME-insured vehicles.
ANPAC, a property and casualty insurance company, is headquartered in Springfield, Missouri. It is a subsidiary of American National Insurance Company (ANICO) of Galveston, Texas, established in 1905. American National Multiple Line agents offer a combination of life insurance, annuities, property and casualty insurance for personal lines, agri-business, targeted commercial exposures and other services. Multiple Line agents serve individuals, families and business owners. Go to http://www.anpac.com for more information.
Founded in 1970, the NSRA hosts eleven of the largest specialty car events in the world, and produces StreetScene magazine. A street rod is typically defined as a modernized vintage vehicle originally manufactured prior to 1949. As of 2010, however, all NSRA events are open to vehicles 30 years and older. This recent change will include high horsepower muscle cars from the 60's and 70's as well as classics from the 50's. Go to http://www.nsra-usa.com for more information and to access the 2010 NSRA event schedule.
This summary of coverages is not a statement of contract. Some coverages may not be available in all states. All coverages are subject to the exclusions, conditions, and requirements stated with the policy. ANPAC and CHROME are registered trademarks of American National Property And Casualty Company. NSRA is a trademark and NATIONAL STREET ROD ASSOCIATION is a registered trademark of the National Street Rod Association used by permission. The website http://www.nsra-usa.com is maintained by the NSRA. Neither ANPAC nor American National Insurance Company has any control over its contents. AMERICAN NATIONAL INSURANCE COMPANY and the AMERICAN NATIONAL eagle logo are registered trademarks of American National Insurance Company. The trademarks may not be used without permission of the respective companies.
###