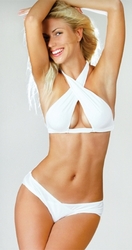 "No matter your shape or size, there is nothing a little shapewear can't do to help boost your confidence and make you feel slim and sexy."
New York, NY (PRWEB) February 22, 2011
No matter a woman's shape or size, there is nothing a little shapewear can't do to boost her confidence and make her feel slim and sexy. Unfortunately, when shopping for shapewear, many women struggle to find the proper fitting undergarment. The styling experts at Classic Shapewear, the leading online retailer offering the best brands of shapewear, suggest that the best way to shop for shapewear is to "shop by your shape."
Shaping Needs
"When shopping for shapewear, we recommend that women first decide what they want the garment to do for them," said Oren Shapiro, buyer for Classic Shapewear. "Do you have a small chest that could use some enhancing? A saggy bottom that could use some uplifting? A tummy that could use some flattening? With so many options available, it's best to narrow down the selection based upon what you hope to achieve when wearing shapewear."
Body Type
Next, it's important to determine body shape. A study of more than 6,000 women conducted at North Carolina State University in 2005 revealed that women's body types fell into the following four categories: 46% of women were banana or rectangular shaped; just over 20% were pear-shaped with hip measurements greater than bust measurements; just under 14% were apple-shaped with broader shoulders and bust, and narrower hips; and only 8% were hourglass with the hip and bust almost of equal size and a narrow waist.
Shop by Shape
"Shopping for shapewear should be fun," said Shapiro. "A woman with an apple shape will have different needs than a women with a pear shape. Follow our simple, 'shop by your shape' suggestions and embrace your beauty, compliment your best assets, and conceal some unwelcome flaws."
Hourglass: For women with the enviable hourglass figure, opt for shapewear that will enhance an already gorgeous figure. A comfortable full body shaper is a great way to smooth curves and hold everything in place. Ann Chery Seduccion Powernet Bodysuit. ($112.99) is a best seller because of its full body compression. This one piece lifts the bust as it compresses the tummy, back, arms, buttocks, hips and thighs.
Wardrobe Tip: Soft, clingy dresses look great on this shape. Vedette's Mid-Thigh Full Body Shapewear ($79) is a must-have to ensure a smooth look. With adjustable straps, this shaper will lift the bust and bottom as it firms the tummy, back and thighs.
Pear: For the woman with a pear shape, Classic Shapewear recommends shopping for a shaping solution that firms and tones the thighs and buttocks such as a slimming pair of leggings that are firming, fashionable and comfortable. Solidea's Silverwave Long Micromassage Anti-Cellulite Leggings ($109) are designed with an exclusive patented wave knit technology that gently massages the skin to break up unwanted fat around the tummy, hips, thighs, buttocks and legs. This exclusive knit offers built-in, clinical grade compression which acts like a second set of muscles boosting microcirculation in the vessels of the skin's upper layers and ridding it of unhealthy fats, toxins and fluids.
Wardrobe Tip: Many women with a pear shape struggle with wearing jeans. An easy solution: Try the Rhonda Shear "Smooth Operator" Seamless Shaper ($34). Made of 15% spandex for firm support, this seamless short will slim the tummy, thighs, and buttocks, ensuring a smooth fit in that favorite pair of jeans.
Apple: With an apple-shape figure, women may be blessed with a larger bust and a great pair of legs. Opt for a wireless bra with wide and ergonomic bra straps, such as the Leonisa Back Posture Support Bra ($37). This great fitting bra reduces the bra bulge with its smooth design and wide bra straps for extreme comfort and support. Another option is a shaper that whittles the middle. Flakisima's new Power Cotton Waist Cincher($54.99) will reduce the waistline by up to 4 inches instantly. Solidea Silverwave Tummy Band Waist Slimmer ($65) is a firm compression shaper that gently hugs and shapes hips and abdomen. The patented three-dimensional wave fabric actively micro-massages the skin, stimulates microcirculation and helps expel localized fat.
Wardrobe Tip: For those who shy away from wearing a close fitting top, try the Sassybax Armed and Dangerous T-Shirt ($68). This shaper offers firm compression on the back of the arms to give the appearance of smooth, firm upper arm tone where it is needed the most with medium torso compression to smooth the tummy from the bra line to hipbone for a sleek silhouette. This chic Sassybax is an excellent layering piece, which can stand alone as a sleek, sassy tee.
Banana: Women with a banana shape will want to add some curve to their slender figure. The new generation of sexy rear enhancers are designed with extra firm compression fabric to slim, lift, and sculpt the derriere to perfection. Dr. Rey Shapewear Bottom Enhancer ($39.95) is a smoothing thigh shaper featuring removable pads that will add some curve when and where it's wanted. Another great rear enhancer is the Pure Style Girlfriends Bump-a-Booty ($30). This low-rise microfiber panty with foam pads is specially designed to give the rear some lift and sits low enough for that favorite pair of low-rise jeans.
Wardrobe Tip: Many women with this frame tend to gain weight in their middle and have smaller busts. Transform a one-dimensional look with Leonisa's Classic Panty Control Body Shaper ($42.99). This braless shaper will define the waistline, flatten and tone the tummy, and enhance the cleavage. Now, women can wear their LBD (little black dress) with complete confidence!
With today's contemporary fabrics and ingenious designs, undergarments can provide wonderful compliments to enhance a woman's figure, leaving her feeling more confident and sexier throughout the day.
For more information on all of these great figure enhancing and body complimenting shapers, please visit: http://www.classicshapewear.com
About Classic Shapewear:
Classic Shapewear is the industry's leading online shapewear retailer offering the highest quality, latest trends, and best named brands to fit and shape women of every size. Specializing in shapewear, the buyer's at Classic Shapewear are selective about which brands they carry. From the material, to design and the importance of a seamless garment, Classic Shapewear knows how shapewear should be made. For more information, please visit: http://www.ClassicShapewear.com
# # #