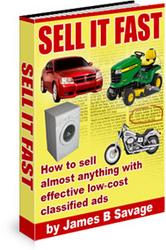 While newspapers across the nation are looking for any lifeline, my system provides just the jolt they need to get money up front from book sales and money at the back end by increased classified ads sales
(PRWEB) April 10, 2009
"Sell it Fast", a brilliant new eBook by James B. Savage, unlocks the secret of using classified ads and other little known venues to help reduce debt by selling anything quickly and for little or no cost. The book spells out exactly how to write classified ads to elicit the best response and how to zero in on real prospects, all while avoiding uncomfortable, ineffective high pressure sales tactics. Everyone is frantically looking at ways to reduce debt. One of the simplest, most effective is selling personal items to eager buyers. 'Sell it Fast' details an easy proven method for selling anything.
"This book both provides a blueprint for people looking for methods of selling anything as quickly and painlessly as possible, and it absolutely boosts classified ad revenue for newspapers," Savage said. He will even help newspapers set up effective promotions designed to capitalize on Savage's system. He is so certain his eBook will drive business to newspapers' classified ads sections that papers are entitled to free review copies. If they agree to promote the book, they can keep 50 percent of the proceeds and all the benefit of increased classified ads sales revenue.
"While newspapers across the nation are looking for any lifeline, my system provides just the jolt they need to get money up front from book sales and money at the back end by increased classified ads sales," Savage said.
Savage's eBook is based on his own extensive experience selling items through classified ads, Readers benefit from Savage's real-life experience perfecting proven methods for selling anything. The eBook will help people make successful sales and therefore reduce debt from day one. The eBook contains 'easy ad forms' that serve as templates for writing winning classified ads in addition to tips for learning a method of selling that attracts buyers without being time consuming or obtrusive.
"In my experience, printed classified ads are still the most effective venues for selling anything," Savage said. "They connect buyers and sellers locally. While it's possible to buy things from far away people, nothing is as effective at building trust as dealing with someone face to face"
Looking for smart, painless ways to reduce debt? "Sell it Fast" shows people how to unlock the hidden potential of classified ads as well as proven techniques for selling anything. Review the pdf copy for a full 60 days and if not completely satisfied, return it for a refund. Act now to order the eBook for an introductory price of only $17. Newspapers should contact the author for information on special promotional partnerships designed to bolster ad revenues.
James Savage
662-217-8022
james(at)sellanythingfast(dot)com
# # #