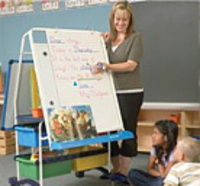 Mc Elhattan, PA (Vocus) February 17, 2010
Brodart Supplies & Furnishings, based in McElhatten, Pa., adds the ultimate teaching easel-storage unit to their offering: the Copernicus Royal Reading/Writing Center.
The Copernicus Reading/Writing Center is a value added unit offering an all-in-one double-sided white board, chart paper holder, and storage unit. One side of the center features a lined white board for students to practice writing, while the other side has a blank board for drawing. The center features Copernicus's own trademarked Page Paws accessories clips, ideal for hanging chart paper.
Sliding storage tubs with "safety stops" prevent tubs from spilling, while still allowing for maximum storage capacity. Each Reading/Writing Center can be purchased with anywhere from two to six shallow Stubby Tubs or taller open tubs. Not only is the center functional, but it is constructed of colorful materials, making it visually-appealing for students and easily integrated into any classroom setting.
To take a closer look at Brodart's Copernicus Royal Reading/Writing Center.
ABOUT BRODART CO.:
Since 1939, Schools and Libraries alike have turned to Brodart Supplies & Furnishings for everything to keep their libraries running smoothly. From book covers and book supports to kids wall murals, Brodart Supplies & Furnishings is a one stop shop for all your library supplies. From humble beginnings, Brodart has grown to become an international company, serving libraries from the Northwest Territories to the Pacific Rim, with facilities in the United States and Canada. Brodart truly has evolved into a full-service library supply company. For additional information about Brodart Supplies & Furnishings, please visit shopbrodart.com or brodart.ca for our Canadian users, or call 1.888.820.4377 in the United States or 1.800.265.8470 from Canada.
###