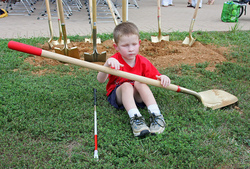 Warrenton, VA (PRWEB) September 14, 2010
The Claude Moore Fun for All Playground will celebrate its grand opening on September 18th, 2010 from 10:00 a.m. – 12:00 p.m. on the grounds of the Warrenton Aquatic and Recreation Facility, located at 800 Waterloo Street in Warrenton, Virginia.
The community is invited to join in the festivities, which will include addresses by Warrenton Mayor George Fitch and playground committee member Kelly Hill, a live musical performance by Lydel Rector, a local eclectic soul songwriter, singer and musician, the official ribbon cutting and the first opportunity for children to play on the brand-new playground.
My Little Pony creator Bonnie Zacherle will also be on hand to sign autographs and My Little Pony prints (available for a nominal donation to the playground fund). Ms. Zacherle personally volunteered her time to transform the playground's two horsey spring riders into My Little Pony-themed riders.
Food will be available for purchase from A La Carte Catering. A La Carte Catering, winner of the Eventective 2010 Planners' Choice Award for Most Popular Caterer, is graciously donating 10 percent of gross food sales to the Claude Moore Fun for All Playground Fund.
Other vendors include the Warrenton Aqua Belles, who will be on hand selling their new cookbook, "The Cooks In Deep Water." Cookbook profits are also being donated to the Playground Fund.
The playground has been made possible through donations from dozens of local businesses and individuals. Led by title sponsor The Claude Moore Foundation, the Warrenton-Fauquier community has raised over $220,000 toward the playground's construction. Another $50,000 is needed to repay the costs of playground construction.
A dedicated committee of volunteers, co-chaired by Linda Reid and John Schlenker, spearheaded the planning and fundraising efforts.
The Claude Moore Fun for All Playground is a certified Boundless Playground developed to help all children with their physical, social and psychological development in an inclusive environment.
The playground equipment was carefully selected and laid out in configurations that are fun, rigorous and challenging for children of all abilities. Among the playground's features:

Rubberized surfaces, ideal for wheel chairs / walkers;
Accessible parking / sidewalks;
Barrier-free ramp system that will allow a child in a wheel chair to reach the highest points;
Bright colors to help children with vision impairments;
Different textures to stimulate sensory development;
Bells, whistles, and chimes to teach cause and effect; and
Swings and spring toys with hand holds and back supports
For more information on the playground and how your donations can help, visit http://www.funforallplayground.com.
###