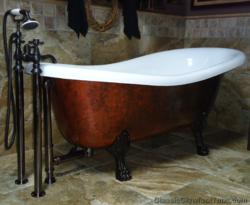 I have never seen anything like this bathtub. It is just beautiful!
Granite Bay, CA (PRWEB) June 12, 2012
ClassicClawfootTubs.com, a website specializing in clawfoot bathtubs, vintage reproduction tub faucets & other bathroom fixtures, is pleased to announce their new "copper bronze" custom finish is now available on all cast iron tubs.
This faux finish design is exclusive to Classic Clawfoot Tubs and can now be applied to their entire line of cast iron bathtubs, creating a unique and visually stunning result. The copper bronze finish took some time to develop, but has been perfected using only the best materials in the application process.
Customers are raving about their new bathtub additions and are more than happy to tell everyone about their purchase.
Sharon from Tigard, Oregon exclaimed, "I have never seen anything like this bathtub. It is just beautiful!"
Martha and Jim from Tustin, California were happy to share, "We ordered the 67" copper bronze tub for our Tuscan bathroom and are just thrilled with it!"
A clawfoot bathtub in copper bronze finish looks best when paired with oil rubbed bronze or antique bronze faucets and fixtures.
Any high-end bathroom will work well with this new finish option, as well as antique or earth toned bathroom themes. The finish is applied to the exterior of the tub, while leaving the inside porcelain white. The aesthetic effect immediately creates a more sophisticated and elegant bathroom.
Customers should allow an additional 4 - 5 days for the preparation, layering, and curing process before the tub can be crated for delivery.
To view more images of this exclusive copper bronze custom finish, or to see other beautiful models, visit their website at: http://www.ClassicClawfootTubs.com
For questions on this bathtub finish, or any other product they carry, click here for more info or call 888-323-2727.