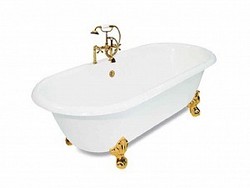 San Diego, CA (PRWEB) September 25, 2008
Simply Bathtubs is ecstatic to announce the release of the newest addition to their bathtub family, the Double Sided Bathtub with Brass Feet. This tub follows in classic bath fixture footsteps, those antique style clawfoot bath tubs, and promises to be the beautiful and refined centerpiece of your bathroom.
This alluring bathtub brings old world charm and simplicity into a new sophistication with its shimmering white finish, and beautiful brass finish ball and claw feet. This bathtub is created in cast iron, with a porcelain enamel coat to prevent chipping, dents and scratches. The benefits of cast iron are well known, because cast iron tubs decrease vibrations and noise, while keeping the water warmer for a longer period of time with iron's insulation qualities. The extra thick layer of enamel on top of the extremely durable cast iron will leave you with a superior bathtub that will last you for years and years to come. The double sided tub makes it effortless to enjoy your bath from any position, and the versatile style makes it perfect for both traditional and modern homes.
This distinctive bathtub is just the beginning of a long line of beautiful discount clawfoot tubs that can be found at SimplyBathtubs.com. They are excited to introduce yet another innovative and stylish bathtub, and as the demand for unique and efficient tubs continues to grow, Simply Bathtubs will continue to produce the best values and quality of bathtubs to ensure they can coordinate with any home's style or decor.
About Simply Bathtubs:
Simply Bathtubs is the leading online source for everything bathtubs! They offer a wide selection of walk in bathtubs, whirlpool bathtubs, and claw foot tubs for your bathroom remodeling project. Their bathtubs come in several different styles and sizes so that customers can find just the right bathtub for their space and unique interior design. If floor space is limited in a bathroom, then a corner bathtub or modern bathtub is a great solution, but if there is a lot of floor space and want the bathtub to be the centerpiece, then a claw foot bathtub or free standing bathtub may work better. If you have special needs or elderly family members in the home, the quality walk in tubs offered are an affordable and stylish solution. Simply Bathtubs offers quality bathtubs at low prices, with free shipping in the continental U.S., and a great customer service experience.
###