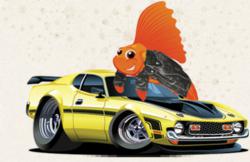 Spring is a great time to do all that, so I would urge consumers to jump on board and clean financial house.
New York, NY (PRWEB) April 03, 2013
RoadFish.com men's lifestyle and finance magazine today released their recommendation for consumers to perform a financial spring cleaning and offers tips on how to go about performing a physical as well as intangible tidying up. RoadFish.com suggests that readers audit their credit reports as part of the spring cleanup and points them towards a Yahoo Finance article detailing how to go about doing so.
RoadFish.com proposed the idea of doing a spring-cleaning for one's finances as April begins, spring gets underway and consumers start to spring-clean their closets, houses, and cars. RoadFish.com recommends tackling finances from several ends, including throwing away unnecessary receipts that have piled up, shredding outdated tax documents and utility bills, updating budgets, and doing credit report audits.
RoadFish.com's Senior staff writer is quoted as saying, "Spring is the perfect time to get out with the old, and in with the new. People tend to like to freshen up the house and get rid of unnecessary clutter, and this is prime opportunity to do the same with finances while you're already in the mood. To start small, get rid of old receipts you no longer need. Search through wallets, purses, and any place you stash receipts. Keep the ones for appliances or anything with a warranty, unless the warranty period has run out, and keep them all in once place. For tax returns, three years is good to keep most federal and state documents but it's a good idea to check when the period of returns runs out on them. Paychecks can be shredded after a year, when you've studied them against your W-2 to make sure things line up. As far as updating your budget goes, keep track of your expenses for two months to find out what you tend to spend and then scrutinize your expenses to find out what you can cut out. HBO? Daily Starbucks runs? Magazine subscriptions that you never read? And it's a great idea to do an audit on your credit report as well."
RoadFish.com points readers to a recent article written by Kim Adams of Yahoo Finance, who reports on the best steps to take to audit a credit report. Adams performed her audit in response to a credit theft, but her steps are relevant for somebody doing an audit to simply monitor one's account as well. Adams states the first step is to ensure that personal info is all up to date and accurate. She also recommends identifying each creditor on the report to make sure there's not one mistakenly listed, and looking over the account history of each one to ensure that they're right.
RoadFish.com urges consumers to take some steps to spring clean their finances, even if they don't tackle everything at once. RoadFish.com's Senior staff writer is quoted as saying, "It's smart to be a financial credit Score Planner and stay one step ahead of your finances, so that no credit report mistakes pop up without you realizing it and so saving money and paying off debt doesn't seem like such a hurdle. Spring is a great time to do all that, so I would urge consumers to jump on board and clean financial house."
About RoadFish.com
RoadFish.com is an online men's magazine featuring articles in lifestyle and finance for men in their 30's and 40's. RoadFish.com features stories on popular topics like hot chicks, dating websites, and men's luxury items. Financial topics include budgeting ideas and financial news like upcoming changes to the U.S. credit-scoring model. RoadFish.com is owned and operated by Purpose Inc.