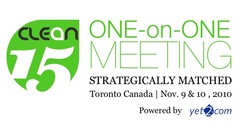 "P&G is the 22nd largest company in the world and has made sustainability a major focus with a target of $50 billion in revenue from sustainable products and a significant reduction in emissions"
Toronto, ON (PRWEB) November 2, 2010
The "Clean 15" today announced that it will host P&G at this year's Clean 15 ONE-on-ONE Meeting, and is pleased to announce new sponsor Ernst & Young.
The Clean 15 ONE-on-ONE Meeting is an exclusive and intimate, deal-intensive event that will be held on the 9th &10th of November, 2010 in Toronto, Canada at the offices of Fogler, Rubinoff LLP and Ernst & Young. As the name implies, this event involves individual meetings that take place between technology companies and key decision makers representing the demand side of Global 1000 companies and midsized companies. Participants will take part in up to 6 focused, strategic and customized meetings. All technologies and key demand-side representatives will be strategically matched to maximize deals and successful outcomes. Cleantech companies will also be given direct access to top targeted Global 500 executives at Yet2.com's exclusive" Conferences to Go" webinars featuring the Clean 15 participants.
"P&G is the 22nd largest company in the world and has made sustainability a major focus with a target of $50 billion in revenue from sustainable products and a significant reduction in emissions," says Dwayne Matthews, Managing Director of the Clean 15. "Participants will have private and semi private offices and conference rooms to discuss partnering and licensing new technologies with P&G. This is a great opportunity for cleantech companies and we are very pleased to be hosting P&G at this year's Clean 15 One-on-One Meeting".
"Strong intentions from additional Global 1000 firms interested in green chemistry, advanced materials and sustainability coupled with the intimate and exclusive nature of the event should make for a valuable experience." says Craig Weissenfels, Clean15, Director of Marketing. "It is also very exciting to have the support of Ernst & Young; as a partnership with them brings much to the table."
Companies interested in registering should visit http://www.clean15.com/oneonone or contact
Craig Weissenfels | (647) 409.1648 | craig(at)clean15(dot)com
About Clean 15
Clean 15 is the market facing brand of Drayton Weissenfels Inc. A company that connects innovation, ideas and intellectual property to industry by leveraging open innovation, a process that enables companies to have wider distribution of research and development initiatives by accessing global expertise through, joint ventures licensing, purchasing intellectual properties and processes. The exclusive Canadian partner of Yet2.com, one of the largest technology transfer marketplaces in the world, Drayton Weissenfels Inc helps companies generate revenue streams from underutilized intellectual property. Drayton Weissenfels is based in Toronto, Canada.
About Canadian Business Journal
The Canadian Business Journal (CBJ) is sent digitally each month to 30,000 individual senior executives in Canada. The CBJ – written by Canadians, for Canadians – is essential reading for Canada's top business leaders who want to stay informed of current business news, industry topics and trends. The magazine offers readers a glimpse into major Canadian industries including construction, energy, food and drink, healthcare, manufacturing and more, through comprehensive profiles of successful Canadian enterprises.
About Yet2.com
Yet2.com provides intellectual property consulting and licensing services to world-class clients around the globe. Yet2.com Inc and its online marketplace were founded in 1999 to promote technology licensing and transfer, with original investments from Siemens, Bayer, Honeywell, DuPont, Procter & Gamble, Caterpillar, and NTT Leasing. The privately held company has offices in the United States, Europe, and Japan. The web site now has over 140,000 registered marketplace users including many of the Fortune 500 and over 11,000 SMEs
About Folger, Rubinoff LLC
Fogler, Rubinoff LLC is a full service law firm in Toronto, Canada providing legal services and advice to both established and emerging businesses and to individuals. The Fogler, Rubinoff team is comprised of 94 lawyers and 120 legal, administrative and technical employees providing support to its clients through a wide range of practice areas, including intellectual property, corporate/commercial, energy, environmental, finance and securities.
About Ernst & Young
Ernst & Young is a global leader in assurance, tax, transaction and advisory services. We aim to have a positive impact on businesses and markets, as well as on society as a whole. Our 141,000 people are the foundation of our success. We assemble the right multi-disciplinary team for your business, drawing on our global talent pool, to help you achieve your potential. We work closely with you, gaining a clear understanding of your organization and striving to identify issues before they become problems. We make sure you get fast access to the people you need, wherever in the world you need them. And with our global focus on 14 Global Industry Sectors you benefit from a market-leading global response to your specific needs.
About OCETA
OCETA is a private, not-for-profit Corporation that supports the commercialization and market adoption of clean technologies and environmentally sustainable solutions. Through its ETV Canada operating division and delivery of the Canadian Environmental Technology Verification Program, OCETA provides independent performance benchmarking and verification of clean technologies to enable more informed investment, procurement and policy decisions. Since its formation in 1993, OCETA has advised and assisted some 1,500 Canadian entrepreneurs with commercializing their innovations.
For more information or to coordinate an interview, please contact:
Dwayne Matthews | Managing Director, Clean 15 | (647) 401.3020 | dwayne(at)clean15(dot)com
###